I was woken up by my wife telling me that my friend was on the phone. I glanced over at my clock and noticed it was 0400. I thought to myself shit I overslept as I took the phone from her. When I said hello I heard him say "dude I thought you were going to be at my house at 0330". I said I was sorry and that I did not hear my alarm. I told him I was already packed so I would get dressed brush my teeth and head out. It was raining pretty heavy when I left my house. I arrived at his house at around 0430; we packed the car and headed out.
Today was a different type of day as we were on a scouting mission. Sure we knew that the areas we were going to look at were high and most likely not fishable but hey we wanted to go take a look at some spots to hit later in the summer.
We made the turn onto the forest service road and headed towards our first destination. It was quite cool in the higher elevation and also quite wet. The road was not in the best shape today with all the rain that we have had. The comment was made that at least there was not any snow and hopefully the roads would be mostly passable.
We got down into the meadow and stopped to stretch a bit. It was pretty cool so I decided to put on my fleece. We got back in the car and we were on our way. On the drive in we saw plenty of wildlife and nice scenery.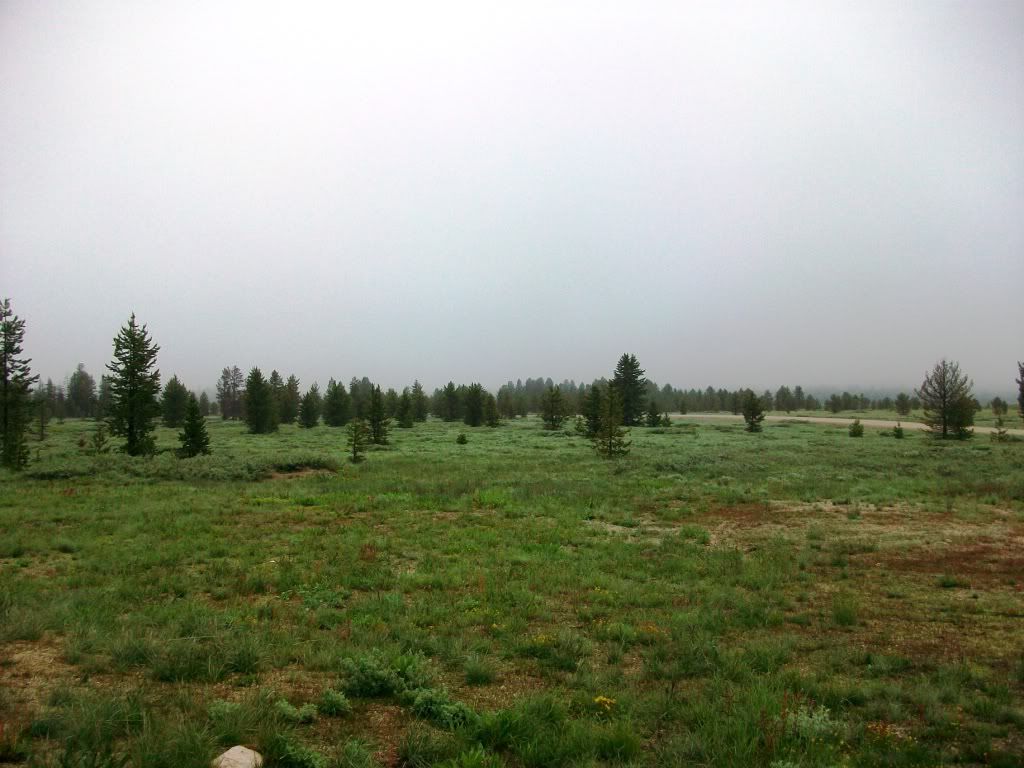 Once the first creek was in view it was pretty clear that it was really high. We decided to get out and go take a look. In my rush to leave my house earlier, I had decided to put on a lot of my gear (minus my waders and boots) including my wool wading socks. This turned out to be a bad choice as the ground was so wet my socks were completely soaked by the time I made it to the bank of the creek.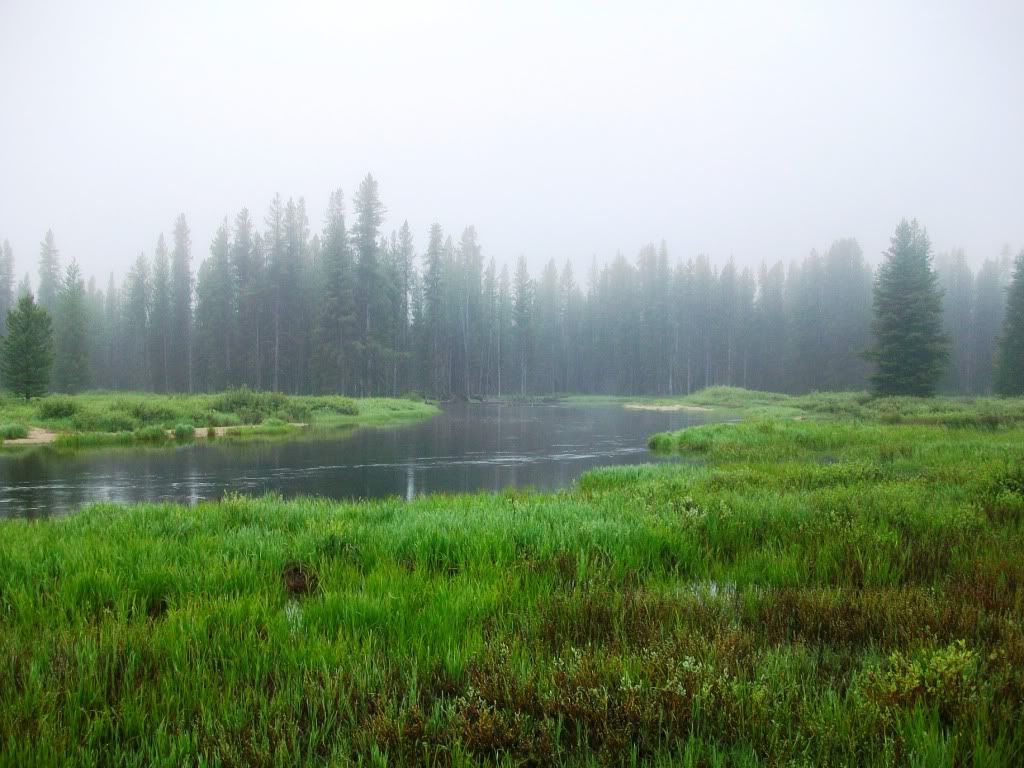 After looking at the creek we decided to head up stream quite a ways. I got to a part that I thought looked pretty good and pulled off the forest service road. We got geared up (wet socks and all) and headed down to the creek.
It was apparent that even up here the creek was going to be too high. The flow was quite swift and the water was deep. We fished upstream a ways with no luck, but hey it sure was nice being up in this country.
After making our way back to the car I wanted to check out another creek in this system. So we headed out. This creek was like the first very high and fast so we did not even fish it. We did find quite a few spots to come back to once the flows were lower.
On the way out from the last spot we were looking at we saw a nice little creek. I wanted to try to fish it so we got out and began to fish. Like the other spots we messed around in there was nothing going on in this creek either. In the middle of fishing it the clouds opened up and it started to pour. It had been lightly raining most of the day but this time it was heavy. The rain turned into hail so it was decided that it was time to leave. We headed back to the car and drove out of the area.
We decided to go scout some other areas. Pretty much every place I looked at in this 500 round trip journey was really high and blown out. It was not a productive trip from a fishing standpoint but I was able to find some nice spots that I will return to in a little while when things calm down. On a side note even though yesterday was the first day of summer it did snow on us at one point in the day. Sorry I did not take a lot of pics this time.
I would love to fish in places like that, we have too many people around these parts.


I was going to say it looks an a lot like YNP, then I scrolled up to see you're in ID. Beautiful country up there, I'm jealous.
Your posts make me so jealous.
Beautiful spots you have there. Makes me miss home and my regular spots in eastern Washington, northern Idaho and Montana; of course, I am in eastern Interior Alaska for the entire season, so it could be worse... Any hints as to whereabouts the third pic was taken?
Wow! Snow? It's been over 100 for the past 3 or 4 days here. No rain so its a bit dusty. finally got warmed up but maybe a little too much. 98 is just about right in my old age. As a kid we use to play sports all day long, in Wichita Falls, Texas in the summer it usually got up to 110-115. WJ
Thanks guys!
It was a fun day, yes the elk were cool and the snow was interesting. I did get to see a lot more cool wildlife that day. In one area I was at I did manage to see some bald eagles. I took a couple of shots but they turned out crappy. As soon as the flows in that area come down a bit the fishing should be good. Oh yea someone asked about the location. I will say that it is a bit north of where I live
Here are a few more pics from my buddy's camera.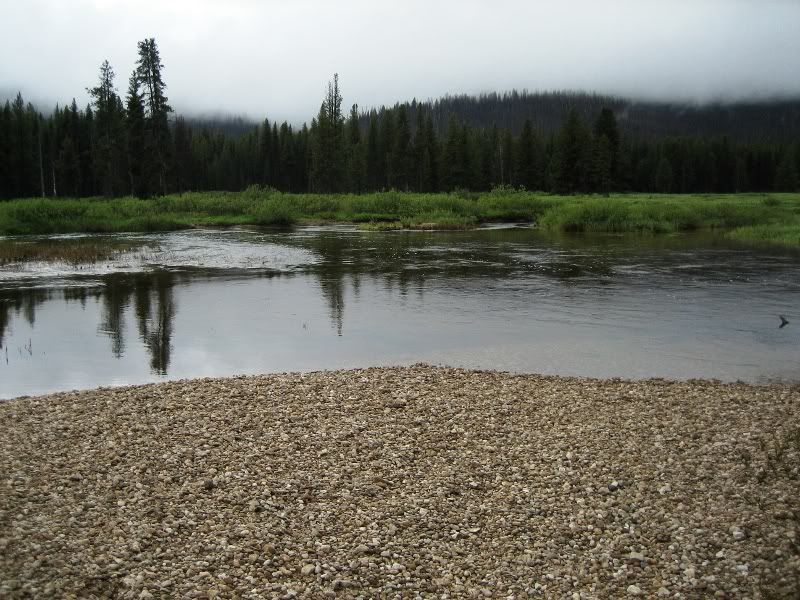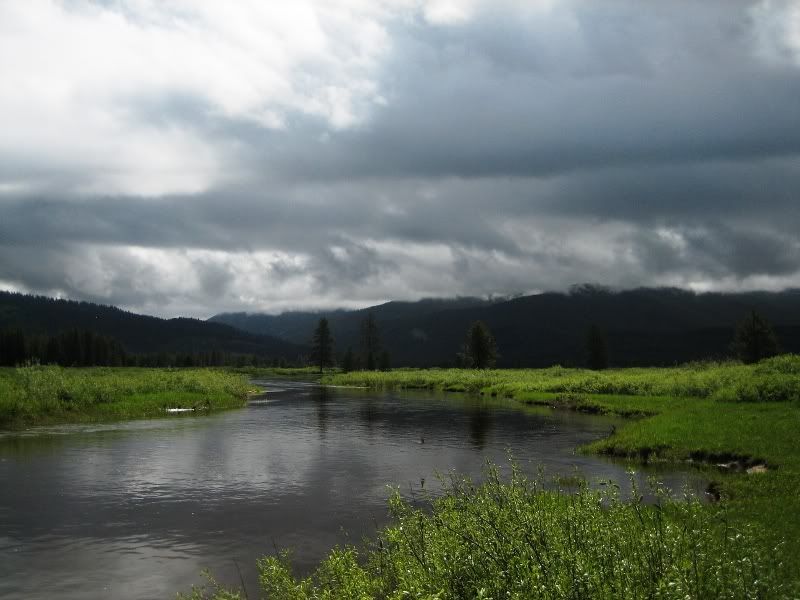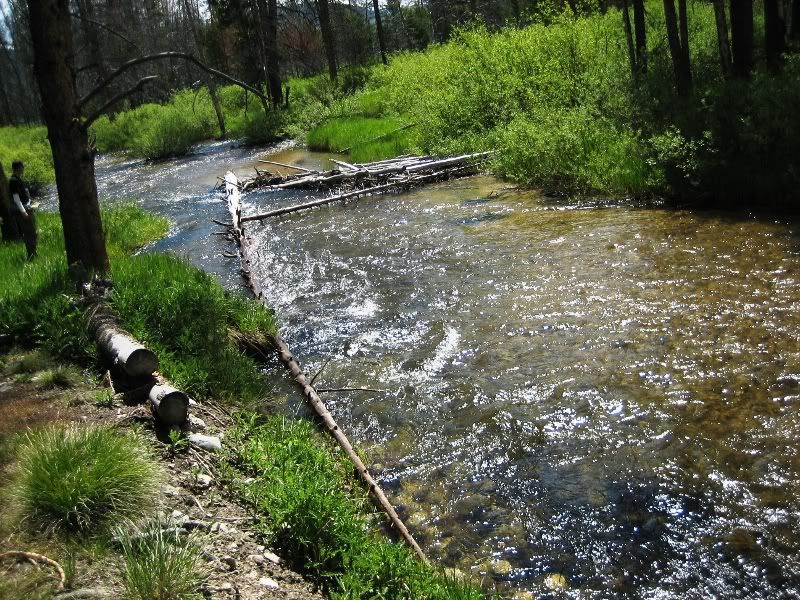 Do you have Grizz in that area? Seems like a Ruger Redhawk would be in my wicker fishbasket. I can see it now, a Larue clamps to clamp a 870 to a 7wt fly rod.
I always carry
To answer your question, no the places we went are not grizzly country. They are however Black Bear, Wolf pack, and Big cat areas.