We inherited these grape vines 3 years ago when we bought the house. We haven't done anything with them at all. They are now out of control. They are located in a garden area that was overgrown that we have sense reclaimed and in the process of getting the garden area ready for this spring. I have no knowledge of grapes. Don't know what kind they are. The previous owners used to make wine from them from what I remember. They are purple grapes and that's all I know, besides that the deer seem to love them! I know they are in serious need of pruning and a new support structure. I wouldn't mind keeping them and making use of them to make jelly/jam if possible. The area will be getting a new fence this weekend, so the deer predation won't be an issue after that.
My questions are:
How do I tell what kind they are?
When I prune them can I cut them back almost to the base of the vine to get to a "start- over point", or is that too extreme?
And then any other tips/tricks or useful info that you can add?
Here's some pics of the overgrown vines: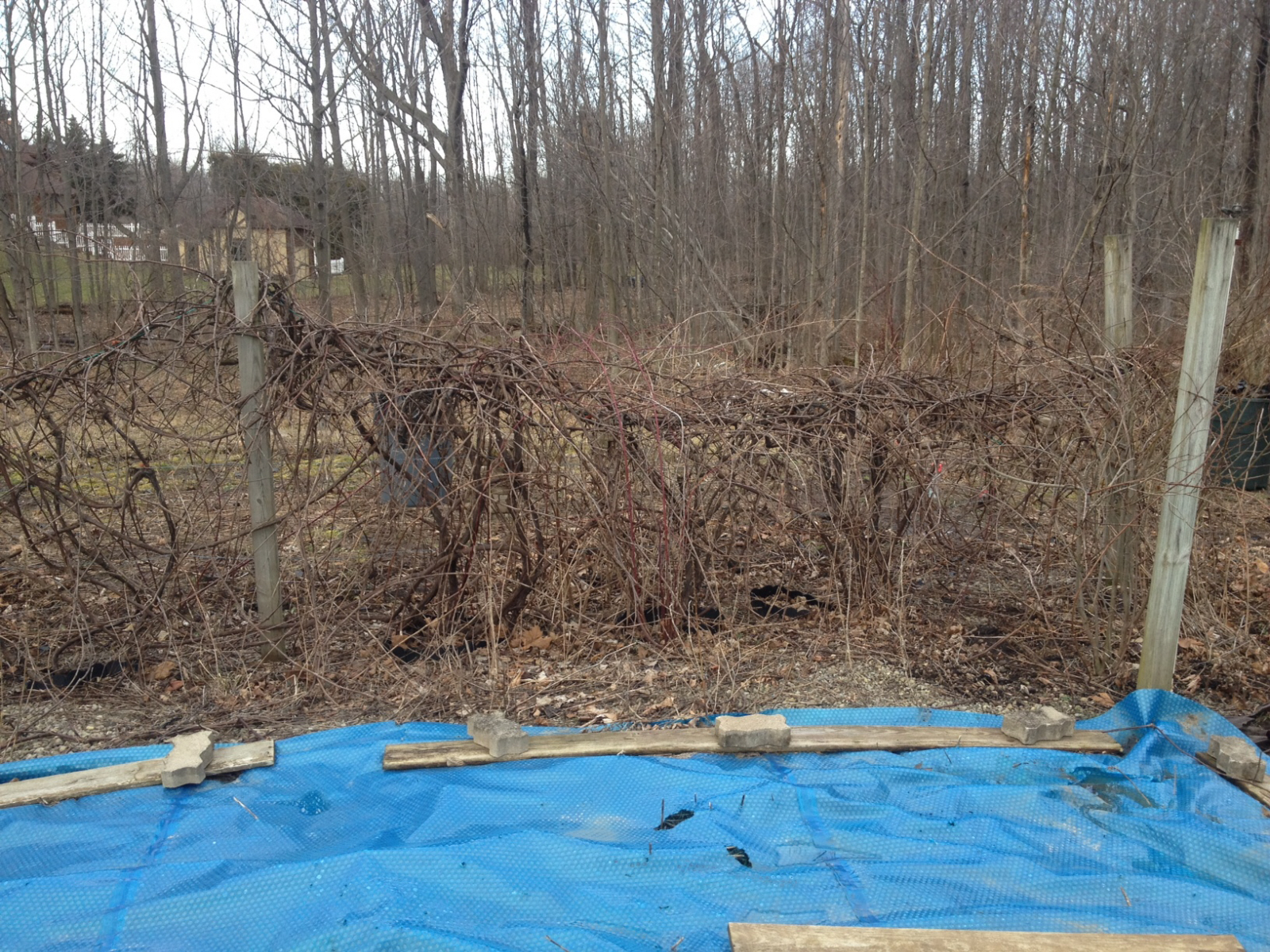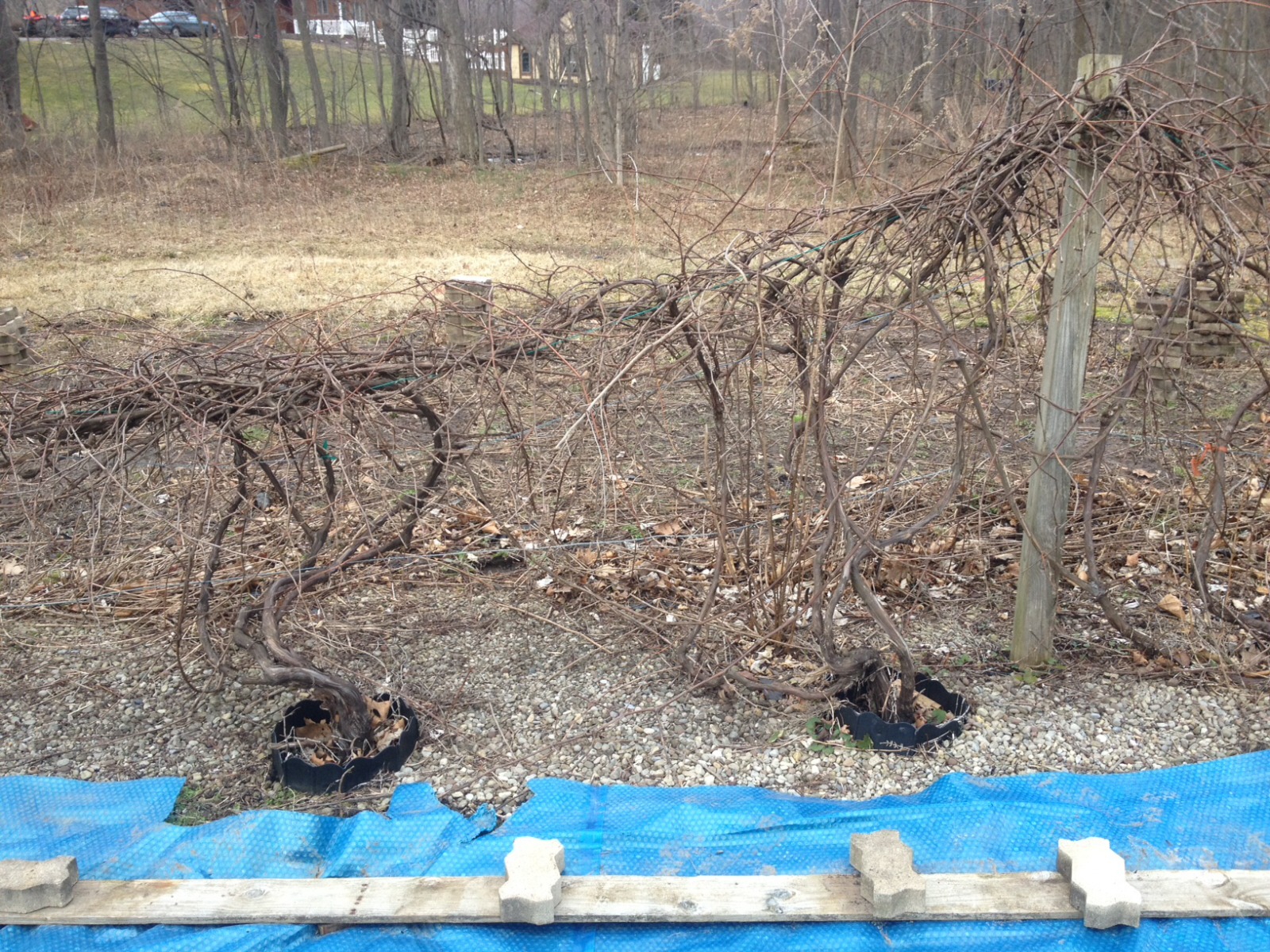 Thanks for your help.
Looks kind of like Concord grape vines. They make great jelly and wine..
I would prune them back about 1/2 their size and next year trim them back again. Only prune them if the sap is still down, any sign of buds on the vines and they will blead to death if you prune them to severly.
Originally Posted By rusteerooster:
Only prune them if the sap is still down, any sign of buds on the vines and they will blead to death if you prune them to severly.
Definitely want to prune them when dormant!
In a nutshell, take off all the old growth but leave enough of the main vines to train around your support wires.
Pruning grape vines isn't brain surgery but there's definitely an art to it. Here's
an intro link
for you. If you know somebody who knows grapes, you be ahead of the game if you could get that person to give you a hands-on tutorial.
you and a helper could do it in a couple of hours going slow. no need to cut it down to the trunk, that would be lazy and poor management. as much as I try to prune when dormant, i always have a lot of bleeding so I don't worry abotu it so much anymore. You have a trunk and traditionally two main branches called Cordons. On each cordon you have fruit bearing "spurs" or little limbs. You have to create this formation, the grape won't naturally grow this way. On each spur I have 3 or 6 buds. If you let the grape grow it will cease being productive.
thanks for the replies. they look to be dormant still, even though we've had a mild winter. no buds that i can see. i took a set of clippers out there today and pruned in a couple spots to see if any sap came out. after a few hours, i didn't see any "bleeding". this week i will work on cleaning some of it up. i need to get the support standing back up straight and brace it so it doesn't fall again. the 4x4 post just pulled over/out, so if i can stand it up again and brace it, i should be good to go there. there are vines going every which way, so it's going to take some time and effort. good times.