I'm headed to Maine in a few weeks for black bear and I'm looking at taking my Savage muzzleloader. My current load for deer is a 250gr Hornady SST in an MMP Sabot, over 42gr of VV N-110. I'm wondering if this is too light of a load for bear and would I be better off going to a heavier bonded or all copper bullet?
Black bears aren't armor plated. That load will do just fine.
Just an " FYI " .. on using " Premiun Bullets / Copper or Brass " .
Here's some additional information to consider
:
" Q. How effective can the Savage 10ML-II actually be downrange?
One of my favorite loads is a 2160 fps arena
300 gr. Barnes MZ-Expander
, pushed by 46 grains of Accurate Arms 5744. That is a 200 yard 6" kill MPBR range load, retaining nearly
1500 fps and 1500 fpe on target at that 200 yards.
We can get more out of our Savage by using 60 grains by weight of Vihtavuori N120, pushing a higher BC Barnes "Original" .458 45-70 bullet, with an
orange MMP .458 sabot.
That is about a 2300 fps load, has a 220 yard maximum point blank range, and retains 1743 fps and 2023 fpe at that 220 yards.... "
http://www.chuckhawks.com/savage_ML_FAQ.htm "
Another " Premium Bullets " to consider (
Using a .458 Sabot
) ..
North Forks :
http://forums.accuratereloading.com/eve/forums/a/tpc/f/4711043/m/2861098911/p/181
Just my two cents !
PAPI
Just some additional info on " Premuim Bullets / Copper or Brass ".
" Barnes 300 grn Blue Tip TSX (.458 )"
, tested @ different velocities.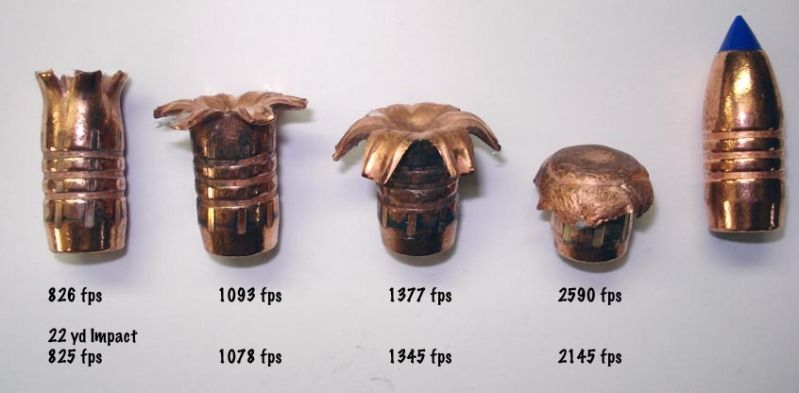 http://forums.accuratereloading.com/eve/forums/a/tpc/f/4711043/m/2861098911/p/161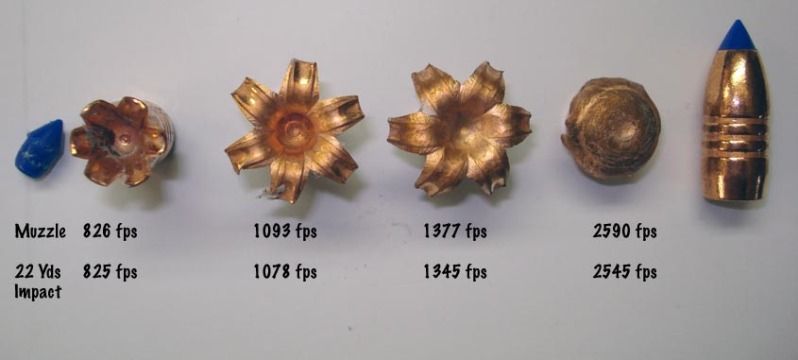 Another bullet to consider : " Cutting Edge Hollow Point Bullets " , were designed to expand .., (
Velocity :1700 fps
) its petal blades/shear, & then acting as a " Solid " ( Rear Shank ) continue penetrating straight, without deforming..!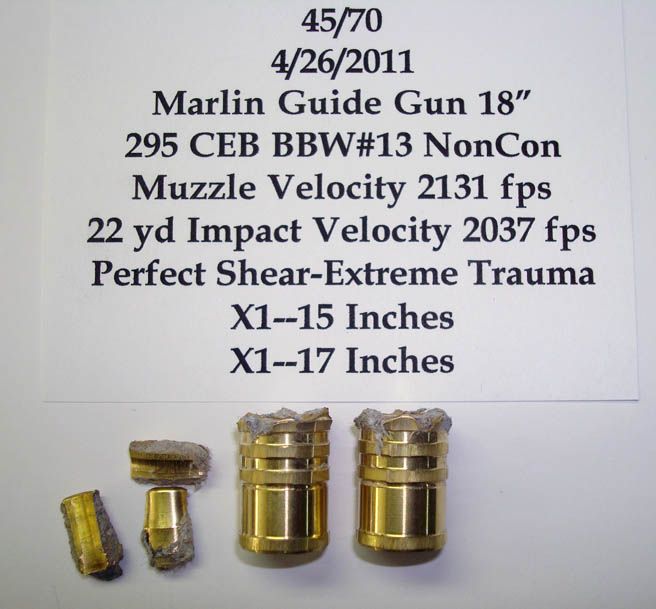 " Our little 295 CEB BBW#13 NonCon HP is able to churn a bit more velocity as you can see, in the Marlin, but because of it's weight the
shear is at 1700 fps impacts
. Again, about 100 yards is as far as you can expect the blades to shear.
This bullet at 22 yards caused massive trauma to the witness card! Close range under 50 yds, this is devastating, all the while giving excellent penetration!... Michael "
http://forums.accuratereloading.com/eve/forums/a/tpc/f/4711043/m/2861098911/p/154
PAPI