I recently completed my AR build, using the stripped lower I bought from Palmetto State Armory several months ago during one of their periodic sales. I put her together last week, and got a chance to do a little shooting over the weekend.
The upper is what PSA sells as their PSA 20" 5.56 1/7 CMV Chrome-lined MP HPT Upper. The barrel is gov't-profile, and is made for PSA by FN. It has 1/7 twist, chrome lining, and is magnetic particle inspected and high pressure tested. The upper has M-4 feed ramps, even though it is a rifle length barrel/gas system... I guess can't hurt! I ordered it with Magpul MOE rifle-length handguards in flat dark earth. The upper came in a cardboard foam-lined rifle case with the PSA logo on it.
The stock is a Magpul CTR, on a PSA 6-position buffer tube kit. The lower parts kit is what PSA sells as the Palmetto State Armory Gen 2 MOE LPK, which is their standard LPK with a Magpul MOE grip and winter trigger guard.
The rear sight is a KAC 2-600m model I have had for a while (which I love). The sling is just a GI leather sling I had sitting around. I will eventually mount a 2-point tactical sling, as soon as I order some mounting hardware for the handguard. I also ordred 7 D&H mags in FDE from PSA along with everything else. They had the best price I have seen on them, at $11.99 each. They have Magpul followers, and floorplates that have PSA's logo on them.
According to my scale, the rifle weighs 7 lbs. unloaded. It balances quite nicely with the gov't-profile barrel. I like the collapsible stock on the 20" rifle. However, I wish the stock adjusted a little longer. At maximum length, the charging handle is at the base of my nose, up against my face, instead of at the tip of my nose when I am all turkey-necked out on it. The total cost of putting the rifle together, including shipping and the $10 transfer fee on the lower, was $753.79.
I took it to the range over the weekend, and zeroed it at 25m. The front sight had to come down quite a bit to get it to zero... I made 7 clicks down, which nearly bottomed it out. The front sight was also very stiff to adjust. It wouldn't move with just a bullet tip... I had to turn it with needle nose pliers. I had to take the rear sight 14 clicks right of center.
I was very satisfied with the way the rifle shot, and with its accuracy. I included a pic of my zeroing target. All groups were shot from prone with a sling at 25m, with Winchester 55 grain ammo. I experienced no malfunctions.
Here are the pics: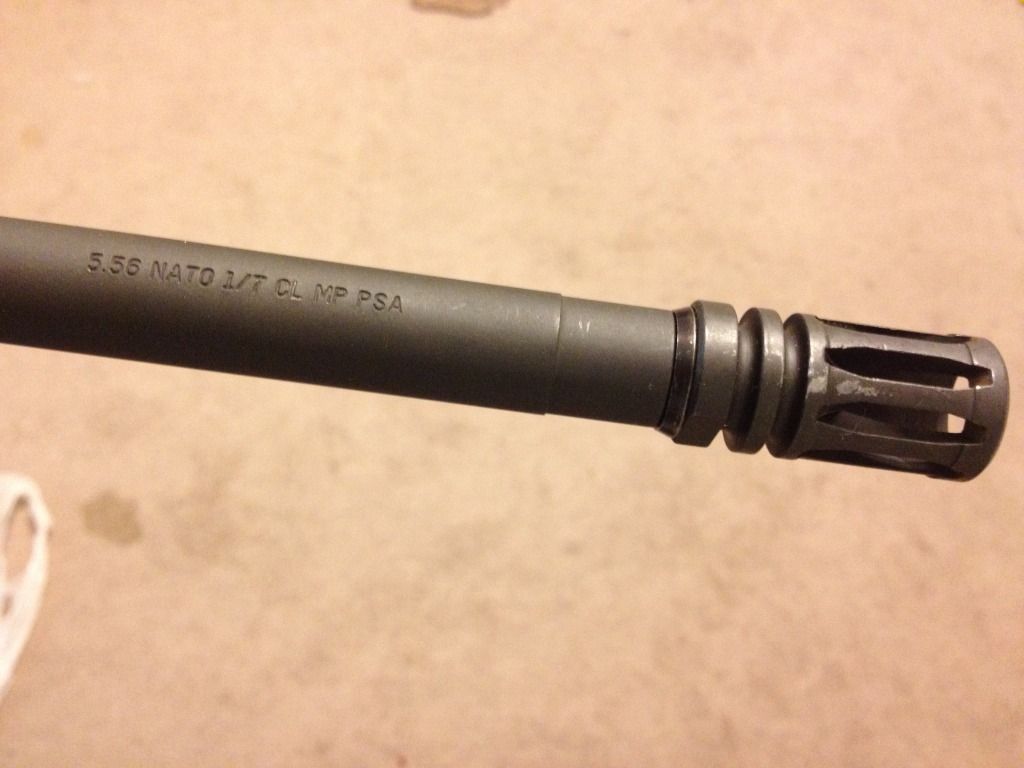 Nothing wrong with having both!
I will probably get either a 14.5" carbine length gas or a 16" mid length gas myself before too long (I still have to decide!).
I'll probably run the 20" with a 1-4x, and the carbine with an Aimpoint.
Awesome!
Gotta keep telling myself (Dissipator is just as good, Dissipator is just as good)
My 20" got parted out and is being redone as a Dissipator. That is one sweet rifle!