I bought this DPMS AP4 a few months back. A guy I know needed money so I took it off his hands for a good price. I have been looking for parts to customize it, but ithere doesn't seem like there is as much of a selection for the 308s as there are for the 223/5.56s. Could use some help on were to look and some ideas. Thanks.
Here's mine that I bought from a friend a few weeks ago. It was an AP4 also. I swapped stocks (that carbine stock bit the hell out of my cheek) for the Magpul PRS and love it. The swap requires an A2 buffer tube, .308 buffer and .308 spring but that's it. I drilled the handguard to accept a stud for the harris bi-pod (6-9"), added a homemade QD sling and a UTG grip (don't laugh, it's the most perfect grip to ever fit in my huge hands, so damn the haters!) Beware the grip swaps though. There will be a small gap at the rear due to a slightly different radius on the .308's, the detent spring for the rear take-down pin goes through the grip rather than to the rear and some grips won't accommodate that without modification. Also, my A2, Ergo, Magpul MOE, and UTG, all align just a hair off from the detent spring holes on the lower...so watch you don't bend a spring like the P.O. did on my rifle.
Also added a YHM folding rear BUIS, scope mount and 3-9x40 Bushnell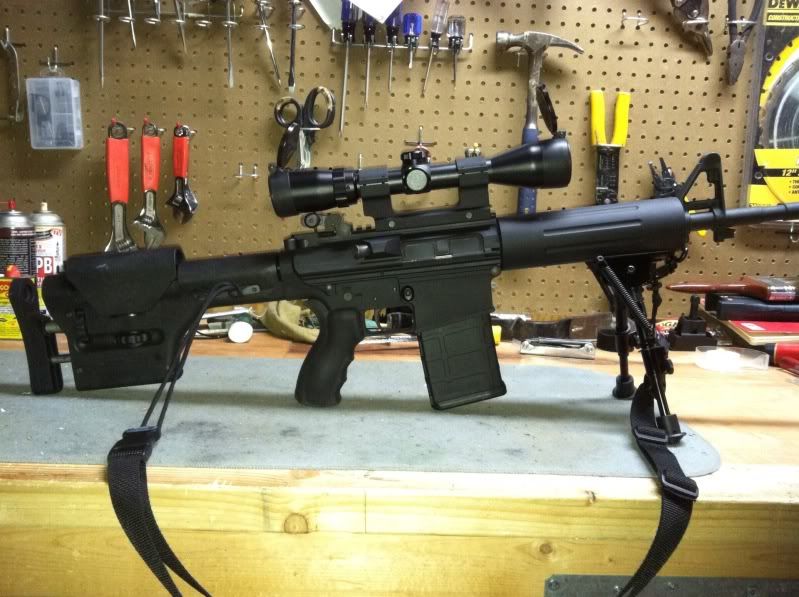 roy d....don't hate the cheap glass, it works
As someone who bought one of these used in January let me ask what is the secret to getting an aftermarket pistol grip to fit? There was a gap at the base of the grip on the rifle when I bought It and I have tried a Hogue with no improvement in the gap. Does it require require a shim or something that may have been removed before the rifle got to me?
That UTG grips looks good. Does it still have the gap? Also is the grip for an 223 AR or is it for a 308 lower? I really like this rifle but it's so hard to find anything to customize it. Thanks.
It really won't make much of a difference but you scope mount is on backwards.
The grip (offered by the much-maligned Chinese owned UTG outfit known for airsoft parts
) is rock solid and I promise it is as stout and solid, if not moreso, than almost any other grip you will find. The sides flange up over the sides to cover any gap. The rear has a small gap (as does the ergo and MIAD) but it's not too prominent. The detent springs don't quite line up (again, neither do the others), so a little work might be in order. The UTG can be found online or at any gunshow for $15. It is made for the 5.56 AR's but I don't know of any dedicated .308 grips other than a DPMS target grip....which I didn't want.
roy d...forgot to mention Hogue grip was tried also, so that's 4 grips tried
Originally Posted By pwalker11:
It really won't make much of a difference but you scope mount is on backwards.
The rear radius cut on the mount aligned with the folding buis on another rifle.....was important at the time for eye relief considerations.
roy d....didn't really make a difference to me otherwise.
This is an AP4 that I modified.
If you buy a Magpul grip, they make a Wedge to fill the gap on the beavertail
ERGO is another company that make a wedge for their grips.
More Build Info
Great ideas, thanks.