Tales from the Dark Side (NVA Type 56 clone)
OK; not an AR granted, but still pretty retro. This isn't finished quite yet, but it's getting there. It's a semi-auto clone of the Chinese milled AK, the Type 56 Rifle, that the NVA and the VC would have used in Vietnam. It's built on a CNC Warrior milled Type 3 receiver with an original Chinese military screw-in AK barrel, folding bayonet, and as near to an original as I can legally (and practically) make it. This one has the correct type of barrel that is timed to screw into the receiver correctly without being pinned like the Polytech Legends were. They were pretty close to a Soviet Type 3 to begin with, and I've tried to replicate most of the details. It still needs to be blued and a couple of minor things done to it, but it should be about as close to "the one that got left behind" as can be.
Like my M40 and my 604 clones; it's not 100% perfect but still a fun project nonetheless.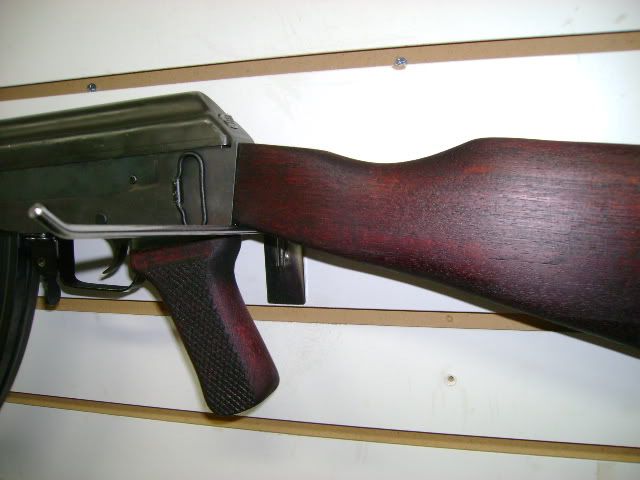 Sweet! Sure wish i would have taken better pics of the ones i had while in Iraq. I found 6 AK,s and a German K-98. I begged the base comandant to let me bring home the k98 (all matching numbers, even on the wood. even had the cleaning rod with it) Policy was,,,,, "no war souveniers of any type". It killed me to watch it get destroyed.
Verrrryyyy nice!
Very cool! I have a Norinco 56s, and would love to make it a spiker.

Where did you get the wood? I've been hunting for a dark set of hardwood furniture for my 56 for a while now. Or just a hardwood set that I could refinish dark like yours. Not a huge fan of the blonde....
Nice
That's a very nice clone you have! I appreciate AK's for their history as much as I do about the M16/AR15.
Very nice sir! Bravo!
Your milled AK is primo, and supremely RETRO
Very nice VN era retro AK. Kinda like it just as is but nothing wrong with a new coat either.
Beautiful AK Joker...!!
Gordog; that IS sad. If you can fight for our country, you should be able to bring home a souviner of your service there. At the VERY least, they should be able to be collected and sold to an importer instead of being destroyed. But look at who we have running things, eh?
MrM1A1, the wood was the typical Chinese blonde wood, like a Norinco or Polytech. I just stripped it down and refinished it with a garnet shellac mixed with some reddish-brown transtint dye that I had mixed up a long time ago to redo a Russian Mosin stock.
Cdenmark; the problem is that the receiver and front site have NO coating at all. Both are new and need something- hot blue, cold blue, rust blue; something aside from bare metal.
And thanks all for the compliments.
That is a great ChiCom AK build, I would love to own it. Here is my 1955 Russian Type III build. The furniture is original, NOS. It's a PLO kit with a Firng Line Special Run reciever and it was put together by Mario at POH.
Here it is before the build.
It's the one in the middle.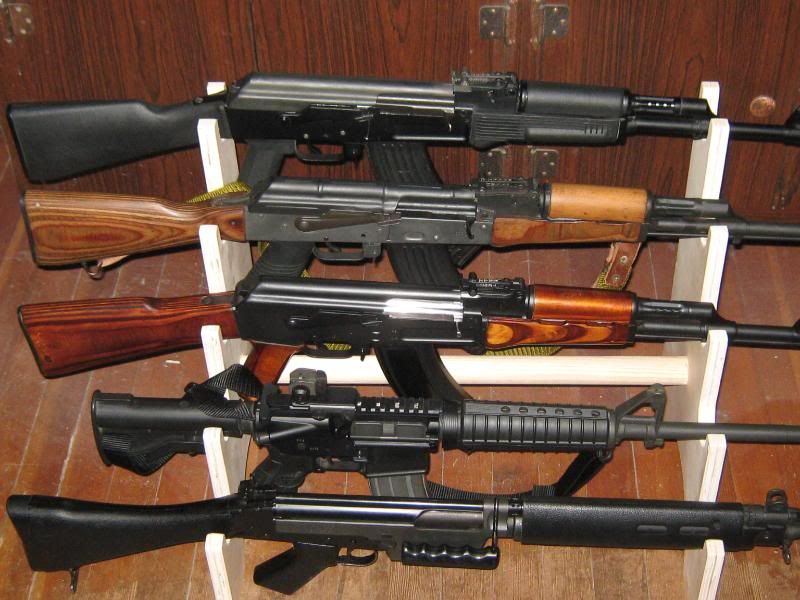 Here is a shot with my 601 to keep it right for the forum.
WOW,,,EXCELLENT builds..
Mmmmmhhh... Now i want to try an AK build... Wish I would have picked up a few AK parts kits when they were everwhere, cheap!!
NICE!!! Milled AKs are the best, man
Here is my Soviet 1958 Izhmash Type III AKS-47. It's a reweld and a lot of fun to shoot.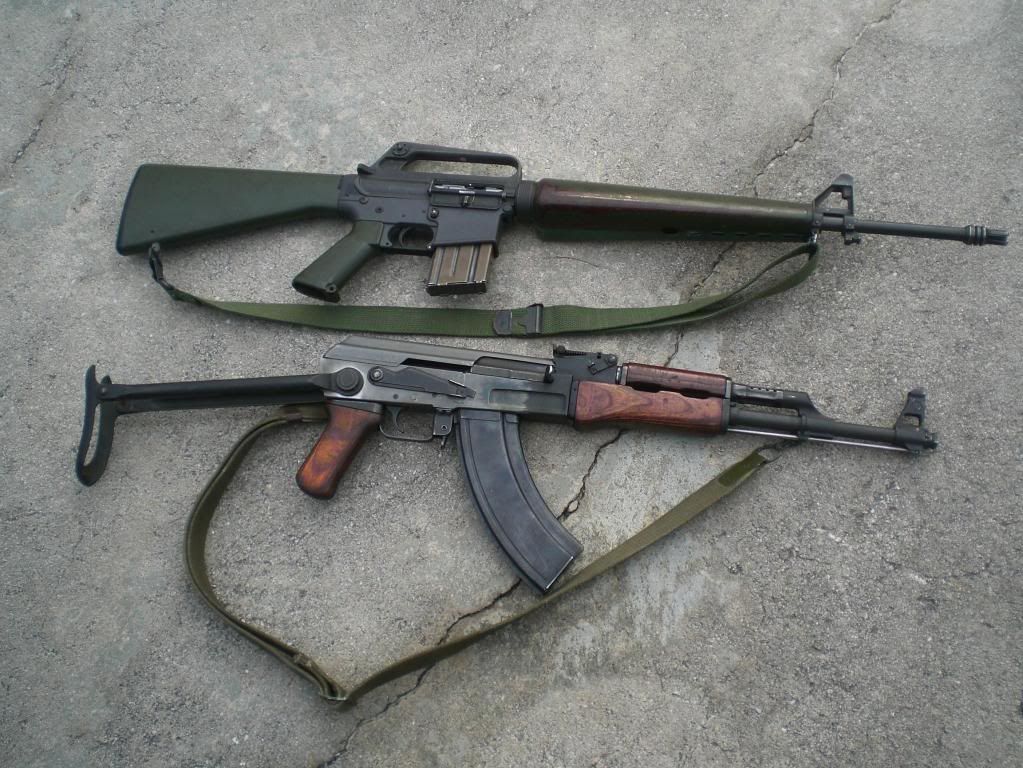 And for another project, a fixed stock Type III (rough and completely unmatching but the bore is perfect!)
Looks great! Makes me want to finish mine.
those side by side pictures are great, they show you just how similar in dimension they really are.
here is my polish kbkg 1960/72 paratrooper carbine. its the only one that i know of in the states as of now.