Custom Adams Arms Gas Piston AR-15 Build
Hey Guys,
For my first gas piston ar15 build I decided to go with the Adams Arms Complete Piston Upper. This Upper included a 16" 1-7" twist M4 contour melonited barrel, Carbine length gas piston system, bolt carrier group, and charging handle for under $600. I then replaced the stock carbine length handguards with black Magpul MOE handguards. I also added a Magpul MOE vertical grip into the mix. To complete the upper receiver I added Magpul MBUS flip-up sights and an EoTech XPS2-0 holographic sight. For the lower receiver I chose a complete Smith and Wesson M&P competition lower with a two stage trigger. I then added a hogue grip, Magpul ASAP, Magpul CTR stock (black), Magpul Enhanced Trigger Guard, and a Magpul BAD lever to complete the build.

So far I have put over 600 rounds through this rifle without one single malfunction. The Adams Arms Piston upper not only runs smoothly with very little to no barrel flip at all making it very easy to stay on target but is extremely easy to clean. Even after a 250 round day at the range all parts can be simply wiped clean with a clean towel with no need to use powder solvent or other cleaning products on them at all. The gas block itself is the only place you may want to use these types of solvents to clear away carbon. Other than that parts such as the bolt carrier group and even the firing pin can simply be wiped clean if need be. Overall I love this rifle and especially the amount of time needed to clean the gas piston system compared to the regular DI system found on most ar15's.

Lastly if you are wondering about the accuracy of this rifle I can honestly say that it is amazing. So far with factory Lake City M855 rounds I can consistently group three shots within or less than a half inch or 1/2 MOA at 100 yards. my best group so far was just over a 1/4 inch with factory ammo!!! I am currently in the process of reloading some higher grain hornady match bullets such as the 68 and 75 grain BTHP Match bullets to see if I can possibly achieve any more accuracy.

-Matt


Just bought their 5.45 upper. I noticed their uppers are on sale from midway. Thought about getting one in 5.56.

Got it in and looks good. Just need to get some sights and buy some 5.45.
good to hear
Yeah Midwayusa is where I picked up my upper, they had a good sale towards the beginning of the year. If you buy anything from midway be sure to look up the promotion code to get an extra 10% off.
I'm also in the process of starting another gas piston conversion build for a friend. We are starting with a standard Bushmaster M4 style AR-15 and giving it a face lift. Planing on adding a carbine length Adams Arms piston kit and a free float quad rail system.
Originally Posted By Mkelley89:
Hey Guys,
For my first gas piston ar15 build I decided to go with the Adams Arms Complete Piston Upper. This Upper included a 16" 1-7" twist M4 contour melonited barrel, Carbine length gas piston system, bolt carrier group, and charging handle for under $600. I then replaced the stock carbine length handguards with black Magpul MOE handguards. I also added a Magpul MOE vertical grip into the mix. To complete the upper receiver I added Magpul MBUS flip-up sights and an EoTech XPS2-0 holographic sight. For the lower receiver I chose a complete Smith and Wesson M&P competition lower with a two stage trigger. I then added a hogue grip, Magpul ASAP, Magpul CTR stock (black), Magpul Enhanced Trigger Guard, and a Magpul BAD lever to complete the build.

So far I have put over 600 rounds through this rifle without one single malfunction. The Adams Arms Piston upper not only runs smoothly with very little to no barrel flip at all making it very easy to stay on target but is extremely easy to clean. Even after a 250 round day at the range all parts can be simply wiped clean with a clean towel with no need to use powder solvent or other cleaning products on them at all. The gas block itself is the only place you may want to use these types of solvents to clear away carbon. Other than that parts such as the bolt carrier group and even the firing pin can simply be wiped clean if need be. Overall I love this rifle and especially the amount of time needed to clean the gas piston system compared to the regular DI system found on most ar15's.

Lastly if you are wondering about the accuracy of this rifle I can honestly say that it is amazing. So far with factory Lake City M855 rounds I can consistently group three shots within or less than a half inch or 1/2 MOA at 100 yards. my best group so far was just over a 1/4 inch with factory ammo!!! I am currently in the process of reloading some higher grain hornady match bullets such as the 68 and 75 grain BTHP Match bullets to see if I can possibly achieve any more accuracy.

-Matt


that's awesome man, and i believe you, but a fair warning, the NightForce clan will be by to call you a liar. nobody wants to believe a piston rig can shoot. again welcome aboard here and i'm glad your rifle is working out for you, i also love my Adams Arms rifles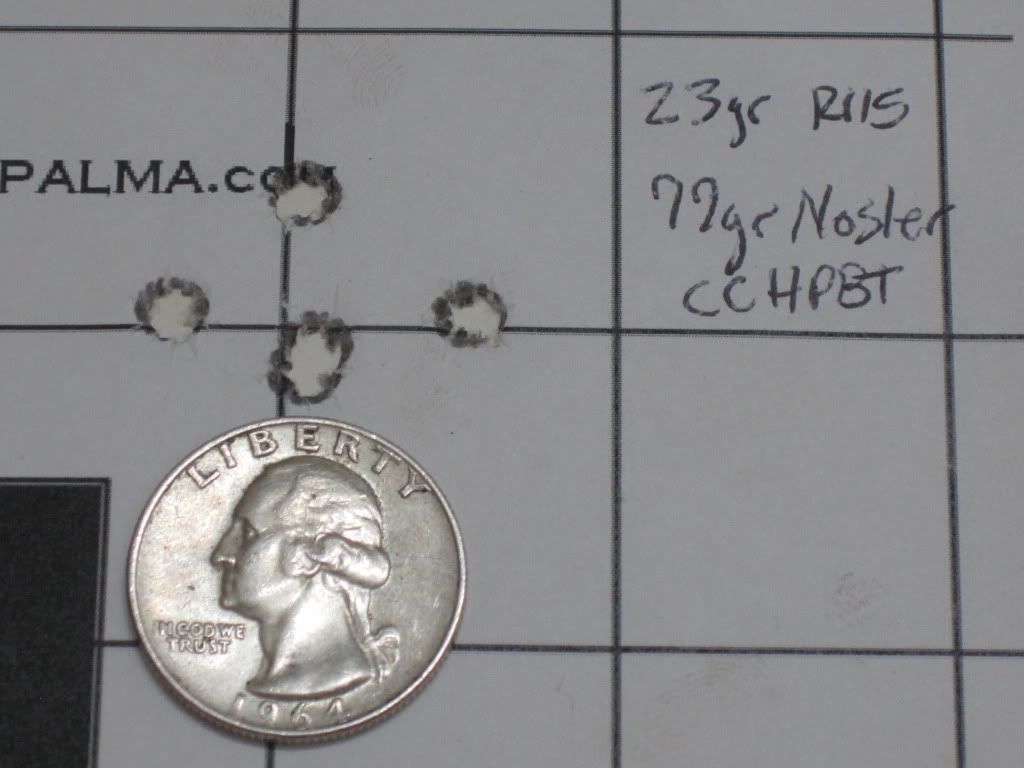 AA build with CGW 1-8 16" SS barrel
1 m.o.a.ish@100 yards...gosh only if I could hit a bullseye
. Regulator at 12 o'clock.
OP have you used the no gas option while shooting and noticed any difference in accuracy? If that mbus is riding the block, how is it holding up?
Nice shooting. I have built 2 rifles using the Adam's arms piston kits and they both run flawlessly and they are both extremely accurate. One is a mid length and the other is a rifle length.
ooh a silver quarter, hardly see them anymore.
Thanks man, Yeah I'm ready for that Nightforce clans comments. DI systems are getting to be almost a thing of the past now with the development of these more reliable piston systems.
I have an MBUS riding on my gas block as well on my AA upper and it doesnt seem to be affected by the heat at all. I think it really depends though on what type of shooting you are doing. I don't tend to go out and shoot more than 60 rounds out of my rifles in 20 mins time. I like to let the barrel cool down in-between groups of three shot groups. I only shoot off a lot of rounds quick when goofing off or practicing some CQB stuff. Even in those situations my MBUS sight has held up well. I dont think you would need to worry about it melting.
From my trolling on arfcom most members only trust 5 shot groups for measures of precision/accuracy. I used to think in three's but once I saw the difference from 3 to 5 round groups with my own shooting; I changed my thinking.

What about the regulator- 12, 1, 3 o'clock? I had to disassemble my rig due to a rail that wouldn't stay put but, I am curious to see if the no gas option has any effect on impact. When the rail comes back I will find out myself however, any knowledge would be appreciated.
v/r r45d
I haven't tried any of the other regulator positions as of yet, though I'm interested in trying the no gas position to test for changes if any in accuracy. As for the groups of three shot groups, I use groups of threes with mil spec ammo such as M855's due to the simple fact that putting two extra holes in a target with factory ammo isn't going to give you any better judgement of the accuracy for that ammo. Factory ammo and mil spec ammo by nature just isn't going to be as accurate as hand loads. On the other hand when I'm testing hand loads I use five shot groups to test for accuracy and consistency. With factory ammo though i see no use in shooting two extra bullets that are all likely to be different from each other in certain aspects such as exact powder weight or bullet seating depth. I have seen these slight differences in powder weight and C.O.L. have a large effect on accuracy, which is consistent with even the best factory ammo. Furthermore I would rather shoot three somewhat inconsistent rounds than five and when shooting hand loads shoot five extremely consistent/similar rounds to judge accuracy. But thats just my view/opinion on judging accuracy and there are many other views out there.