Opinion on A2 clone?
Folks, I'm looking at getting a 20" upper with a regular ole, fixed carry handle A2 receiver and a gov't profile 1/7 barrel. Here's my quandry - I've had very good luck with Model 1 Sales and the ER Shaw barrels they use. How would their 20" standard upper with 1/7, chrome-lined gov't profile barrel compare to an FN manufactured upper with an FNMI marked barrel compare? Keep in mind also, that all of the FN uppers I see for sale are all used and of varying condition compared to the Model 1 Sales upper that will be a brand new unit. Is there something that would justify going with a used FN unit? I think I may have just answered my own question but would still like to get the input of more experienced and knowledgeable folks. I currently have an A2 clone that has a 1/9 heavy barrel and gives me great accuracy. I guess I'm jonesin' for what I carried in the Corps many years ago. Any advice and input would be greatly appreciated. Thanks!
My clone has an FN upper, Bushmaster 1/7 govt profile chrome lined and a DPMS lower
I don't feel slighted.

Markings are just that, markings, they don't really add any additional value.
Maybe later on in the future they might but remember, a clone is still a clone.
Case in point.
All the "authentic" markings on clone single action army revolvers don't make them any more valuable as used guns.
Same goes for AR15s.
Milo5, I agree. That's pretty much my take. I was just wondering if there is something unique about a complete, but used, FN M16A2 upper that would justify buying it instead of a brand new clone upper with
exactly
the same features? The main thing that I want is the 1/7 twist, chrome-lined bore and chamber, gov't profile barrel.
I kind of like milspec types for my A2s..well as close as can be
Colt MT6601 with Colt A2 Gov't profile barrel assembly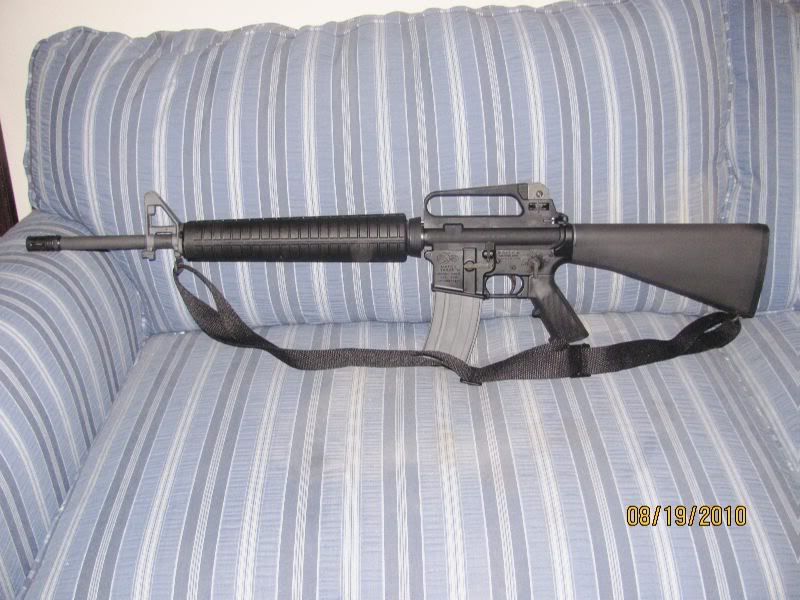 McKay lower (engraved with FN logo), all FN upper, barrel, upper, bcg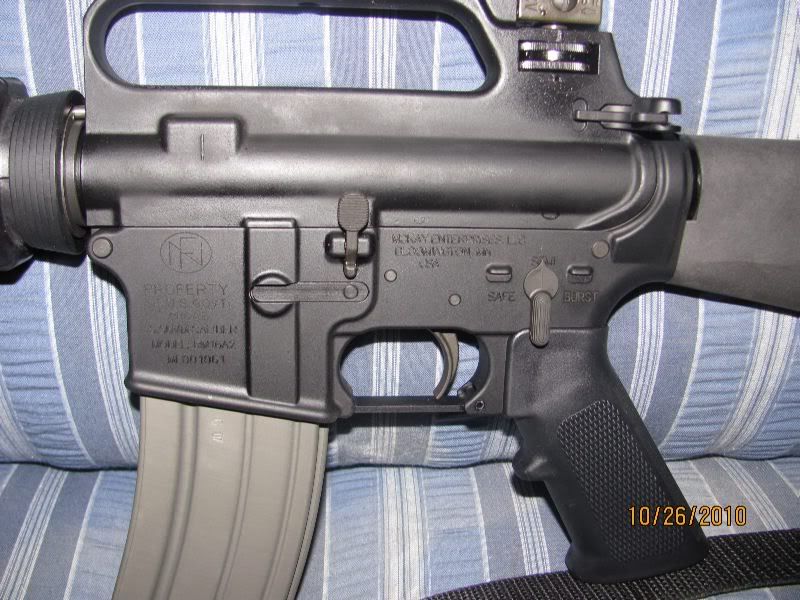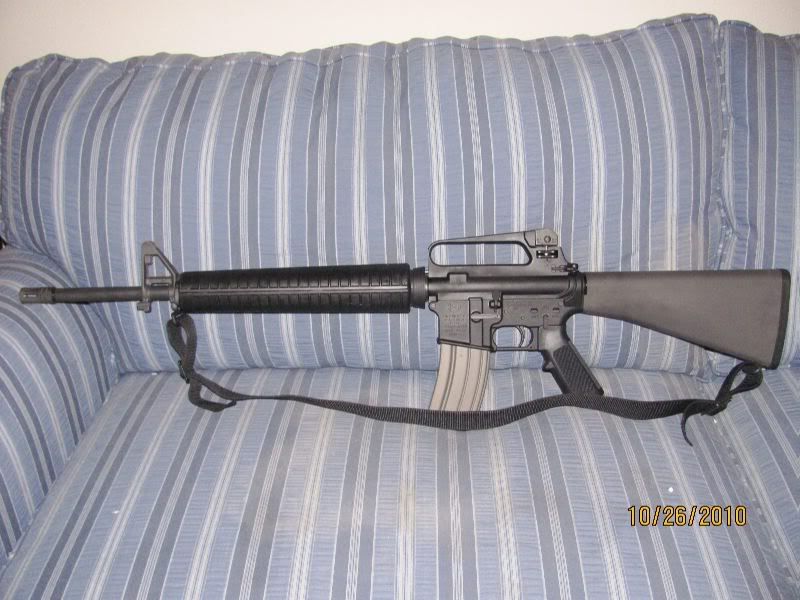 I have an A2 clone also consists of a Ruger SR556 lower and a FN upper.Got in a trade with a Texas guy and $400 cash.I trade a 2000 AR-10A4 that I had bought for $1000.
The real advantage of FN and Colt uppers is being real deal USGI. The right ER Shaw could easily outshoot either USGI upper but the wrong one wouldn't. They are supposedly made to the milspec but a surplus Colt or FN
are
the milspec proofed and test fired. In an almost authentic A-2 clone one will want FN or Colt but if performance and looks from 2ft are alll that matters think I'd buy what
you
want as it's your coins. If not happy with result regroup.
The surplus uppers had been going dirt cheap for the last couple years but prices are inching up and parts (port doors and FA's are now being removed. I say it's an AR do what you want and all are correct answers. When excellent condition Colt and FN upper assemblies less BCG and CH are $250-275 it's kind of a no brainer. At $350 and up the deal has certainly diminished.
I bought new BM complete A-2 upper receivers for $75 and new BM 1-7 govt barrel assemblies for $235 a couple years back and I built some BM A-2's. They were actually as good or better than the FN and Colt used A-2's I've built and owned. I did install NOS Colt internals that I had bulk purchased for less than $140 per BCG and CH. Not gonna find those deals anymore either and of course I had to spend approximately $2K to do it but most usually pay a little extra for NOS Colt parts. For $450ish complete bolt-on there are few out there that would touch them for the coins.
Today I wouldn't be scared to use a premium PSA BCH for $100 and Colt sells new CH's for $21. Buy enough to justify the shipping. Good luck on your build which ever way you go.
I've been thinking about snagging an FN upper receiver and using an ER Shaw 1/7 gov't barrel or maybe the Bushmaster gov't barrel - especially since it comes with everything including the gas tube AND handguards and is $10 less than the ER Shaw through Model 1 Sales. I've got the rest, port door, etc, but the only FA I have on hand right now is a teardrop. Thank you for everyone's input and advice. Now to start collecting parts!
the bushmaster 1/7 is GTG.
Since purchasing an FN M16A2 upper assembly off the EXCHANGE board a couple of months ago, I've been doing a little research trying to find the origin of these. The one I bought was in excellent + + condition and appears to have been little if at all used. Except for a couple of small scuffs on the barrel finish, the whole thing looks new. The chrome bore is dazzling!

At the time, the seller had two FN M16A2 upper assemblies available with one being more of a gray finish and the other somewhat black. According to him, both were purchased at a gun show somewhere in the southern United States in late 2010.

Interestingly, one of the FN upper assemblies had the front sling mount on the right side, attached to the barrel just behind and below the sight assembly. That led me to speculate that some or most of those barely used FN M16A2 upper parts were perhaps of foreign military origin and being imported from outside North America. Fact is, during the 1990s and 2000s, a number of smaller size foreign nations purchased new South Carolina built FN M16A2 rifles. A couple of those countries happen to be Nepal and Argentina. Word is that the Argentine Navy troops were equipped with selective fire FN M16A2 rifles having full auto.

Since the first of the year (2012), it seems that the very good or better condition, complete FN M16A2 upper assemblies have been getting harder to find. Most of the stuff seen now from sources like SARCO look to be hammered out, overpriced trash.

In January 2012, I purchased that FN M16A2 upper for $335 shipped. Perhaps with running around scrounging for used mil-spec components, a few bucks may have been saved. Figuring in time, effort and added shipping it's probably more prudent to pop the extra money for a Fabrique Nationale factory built upper assembly as pulled from a genuine M16A2 rifle.