does clamp-on bipod work fine?
my rifle has standard m4 handguard, no swiel stud or picatinny rail to attach a bipod, i thought of using adaptor and such, as well as barrel rail mount etc. but all lots of hassle

so how about clamp-on bipod that attaches directly to the barrel under the front sight ? everything are attached to barrel anyway why not directly attach the bipod to the barrel?

thanks
If you are referring to the one that look like an upside down
'V'
.....they really are not too stable. The ones I have seen are made out of plastic. I am not sure if someone has made a metal version of it.
no i mean those with locking mechanism to clamp on barrel
Take a look at this upper. There is a stud adapter on the bottom. That way you can use a Harris (or whatever) with the swivel method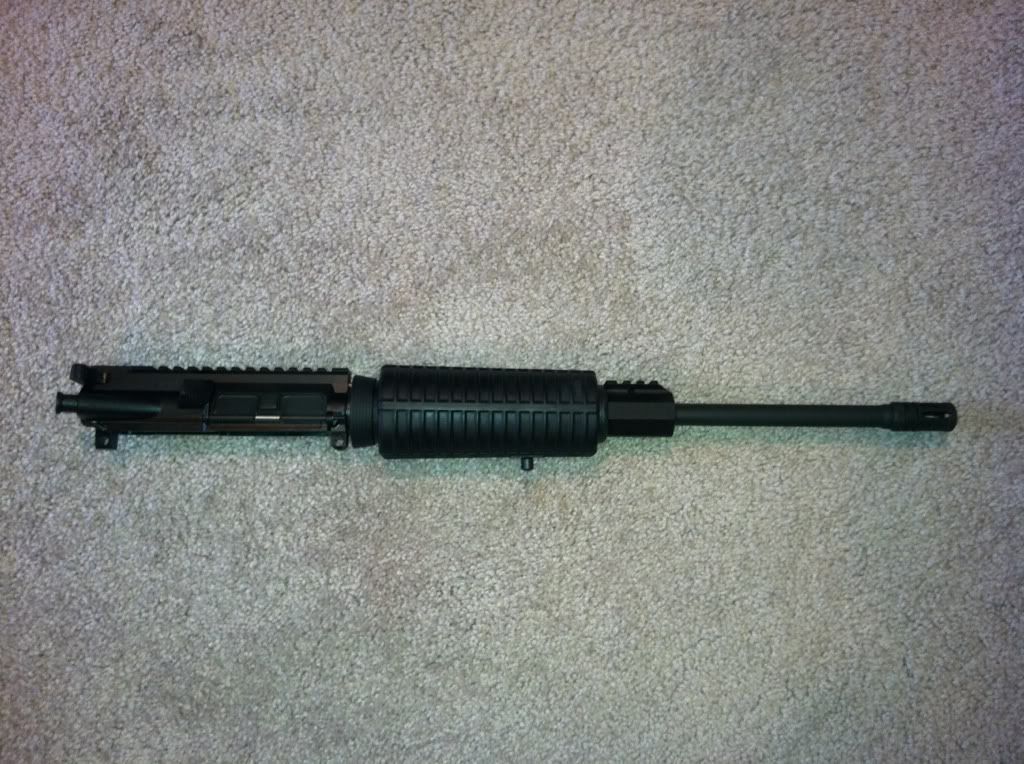 Here is the adapter. The long piece is inside the hand guard and pokes through a hole in the bottom of a standard hand guard. Put on the washer on the other side and screw the stud in.
thanks for the pictures, why i get the impression that the stub hanging under the plastic handguard won't hold the bipod as secure as picatinny rail clamped on the barrel
I will say that when there is nothing attached to the stud it does wiggle around a lot. However once you attach the bipod and screw it tight, the stud doesn't move. I also have another AR with a bottom rail attached and I would say that there is more "sway" with the bipod. The rail has to be tight to the hand guard AND the bipod has to be tight to the rail. I prefer the stud method for a standard hand guard set up.

Plus with the stud mount I can move the bipod to other weapons with studs. Not all my weapons have rails
I don't like ANYTHING attached to my barrel except the gas block!
Barrel attachments cause POI issues.
Originally Posted By lc12:
I don't like ANYTHING attached to my barrel except the gas block!
Barrel attachments cause POI issues.
This.