Hello all from the littlest state in the nation!!
I have just finished putting together my first and only AR. A buddy of mine had recently purchased a BCM and he suggested PSA due to their low cost and great quality.
After some searching around to be sure that he knew what he was talking about, I "pulled the trigger" ( I'm sure I'm not the 1st to use that one...) on a PSA stripped lower and MOE LPK in Foliage Green.
Another ex-military buddy and I put the lower together. Couldn't believe how easy it was!! Everything went together great and we had no issues whatsoever.
Well, a couple days ago, my PSA upper arrived!!
16" Middy, Cold Hammer Forged Barrel:
And one last one with my nosy little dog..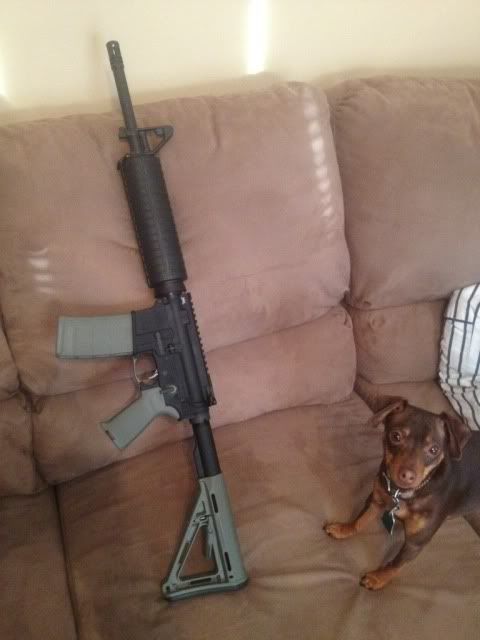 Can't wait to take it out and run some rounds through it!
Don't have a rear sight yet, but I did order it yesterday, hope to have it early next week.
Let me know what you guys think! Thanks!!
Jesse
Nice 1st build....congratulations!
Let me the first to warn you, AR's are addictive....you will likely have 2-6 more soon
your trigger pin seems to not be centered very well. make sure you got the hammer spring in the correct way
it will look like this if it's in the wrong way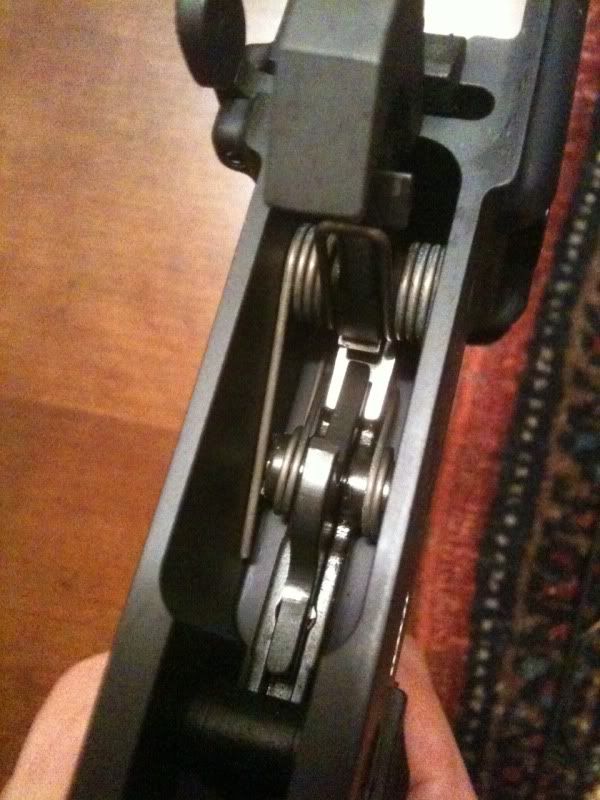 it will look like this installed correctly
Welcome to the dark side.
Ok, took a couple quick pics. Let me know if this looks right or if I need to take a better pic.
This may be a better pic.
she's backwards, flip the hammer spring around and reassemble
ETA: the spring orientation on the right is the correct way