2 new built AR's test firing this weekend , and had an issue with one. Here is the behavior
load, pull trigger, and then doesn't return trigger function back to firing capable. I turn selector to safe (here a click) and then back to semi, then pull trigger. (Same Behavior over and over)
Any Suggestions what to check for here??
BTW: the other AR was so smooth with 4 different type of ammo.
Thanks,
Pull the FCG parts, Now dry fit the disco and trigger to the pin outside of the rifle. Does both of these allow the part so freely rotate on the trigger pin, or is there a bur in the channels of the disco and trigger (side C slot) that is causing the part to bind on the pin?
Next, run your finger nail down the disco sear hook and back hammer sear edges to check for grinding burs. If such are found, then using a fine stone, remove the end of sear face burs so the disco sears can glide against each other and release cleanly at trigger release, instead of the end of sear edge burs, catching each other to prevent the trigger release rest.
Now, before you re-install the FCG, lube the every loving piss out out of the parts, including the hammer and trigger channels.
Lastly, make sure that the springs are installed as such below, including the disco spring installed large coil side down into the trigger slot, with the smaller end of the disco spring up under the disco tail. Also, make sure that the tail of the trigger is clearing both sides of the selector U channel so there is not binding there, and that you have installed the grip bolt washer so the end of the bolt is not now protruding up into the bottom of the receiver void, and preventing the trigger from cleanly returning all the way home.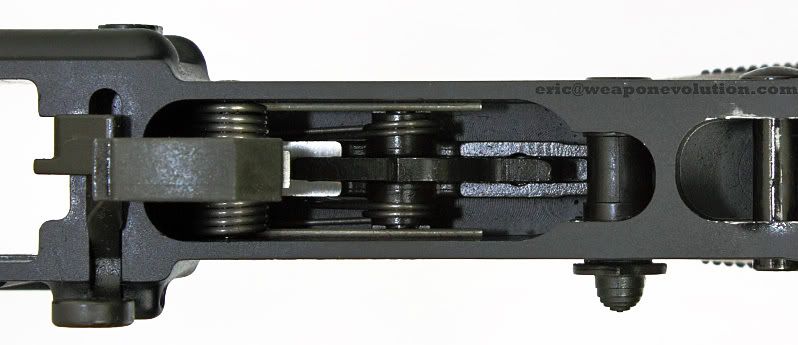 Thank you for that write up.. I will break it down and check it all out..

Thanks Again!!