Price check on an Arsenal sa-m7s?
I just traded a smith and wesson model 41 worth about 800.00 for a nib arsenal sa-m7s and 6 magazines. This is my first ak purchase and I am not sure what this arsenal model is worth.
I say you got a great deal, for a new in box i'd say its worth about 1,000 also depends on the model, the classic might fetch closer to 1,500.
Thanks nchapa! I don't think it is the classic model as this one has the black furniture and a pinned comp.
Good trade. Those guns were about 800 new when they originally came out, so I guess you got the old value. Many people nowadays pay even more for them (they have appreciated some in value). Typically very good quality guns too. Hope you keep it and enjoy shooting it.
Great trade! Does it have wood or plastic furniture? If its wood you got a great deal on a Classic, if plastic you still did really well on a Carbine. The Arsenal SA M7 rifles are really exceptional Bulgarian builds and in my experience are extremely accurate for an AK.
Last time I saw them they were $1500 and over!
I thought that was a bit too pricey but... thats what I remember for retail for new ones in maybe the last year.

You made out on that trade, provided you wanted a nice AK.


I have the underfolder version SAS M-7 and really like it, very satisfied and I was thinking to pick up one of those to go with it someday, but... pricey, I sure as hell never came across one near $800
Originally Posted By Shooter505:
Thanks nchapa! I don't think it is the classic model as this one has the black furniture and a pinned comp.
Hmmm, thats odd. The SA-M7's normally just had a nut. I assume someone simply added it later?
A SA-M7 Carbine will look like this minus the Ultimax.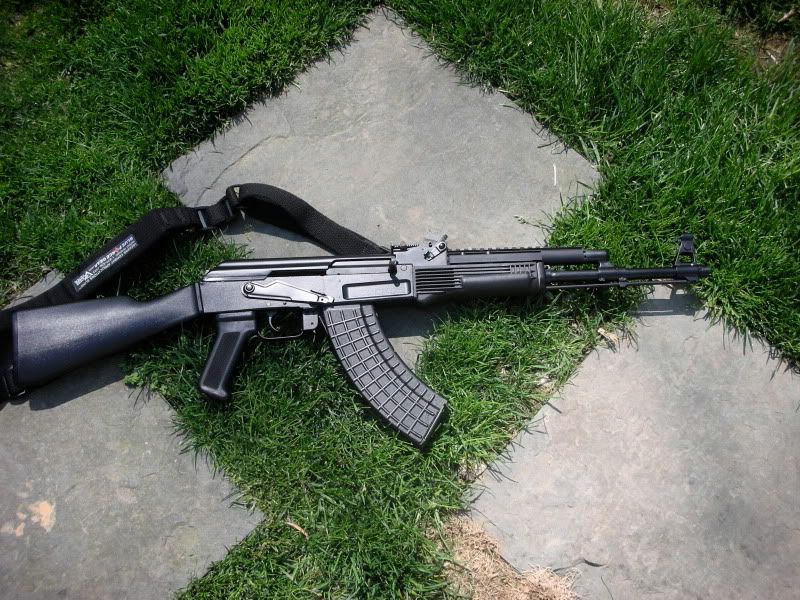 maybe its one of the ban versions being pinned?

I remember there being ban and no ban models.
Thanks all for the information!

D90king yours looks like mine other than I have the comp on mine.

New question for you all. I got the pins knocked out and the comp came off but the barrel is not threaded. The barrel diameter is .532 inches can I have this threaded to accept the 14mm barrel nut? Do I even need the barrel nut?
The barrel nut sole purpose is to protect the threads, i'm pretty sure you can thread the barrel, but i'll leave that one to someone who has done it.