I picked up a flyer for a Beretta 90 Two at a gun shop yesterday. It looks really nice. I own a Taurus PT99 and love it, and might like something similar, but with the night sights and rail system on this new model.

Anyone own one? Like, dislike? Is it just another rock solid 92 series, with just a few new features?

Thanks,
Like = Good Trigger right out the Box
Internal Recoil Buffer
Dovetail Front Sight
17 round Mags with nice finish
Does share some commonality partswise,to the 92/96
Dislike = Grips,only 2 to choose from,and they are slippery.(I coat mine with Brownells' Spray Grit)
Upper will not fit on standard 92/96 lower.Only 92-A1/96-A1,(But standard 92/96 Slides will fit it)
Captured guide rod is pricey to replace.(There are alternatives)
Not a lot of Holsters made.(There are a few)
Night Sights are just Glow Paint.(But do work)
Replacement parts specific to it are pricey.
Might want to check out a 92-A1/96-A1.
That being said,
I really like mine.
" target="_blank">
And will do this soon;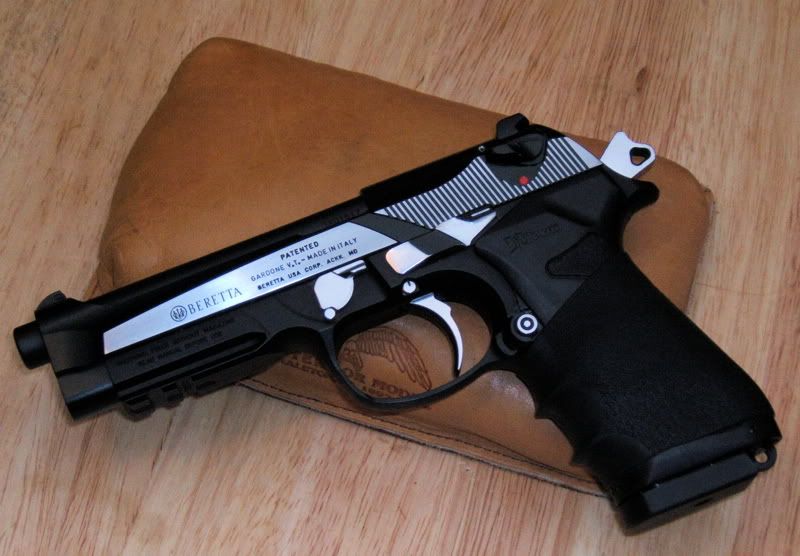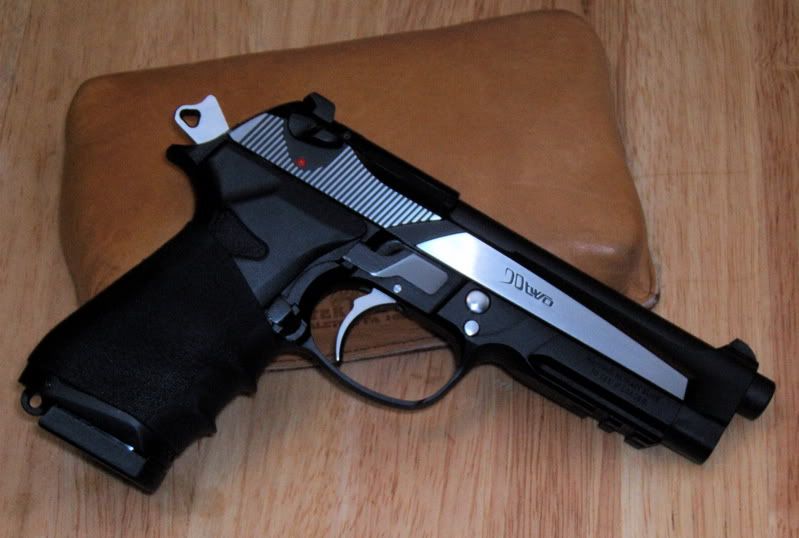 Or perhaps this;

My son really likes his. Its a .40 S&W, not a 9mm. No issues with his so far with Federal or Remington ammo or with our reloads.

Slowly picking up a couple of magazines from Beretta every couple of months (cheaper from Beretta than any place else I've found, at least for the .40 S&W mags.)

LIke mentioned above, not a lot of holsters yet.

Feel different in your hand than a 92 due to the different grip/frame.
I like mine, its kind of like an M9 but with a smaller grip.

Once I changed out the composite trigger with a steel one, it had a nice trigger.

I own a half dozen 92 series pistols and to me the composite trigger is too gritty and needs to be done away with.
My 90-Two is my favorite pistol. The grips are slick. I ordered a slim grip and stippled it.