Ruger Blackhawk Grips
Anybody know of any nice grip options for the Ruger Black Hawk? The stock ones just arent cutting it!
material?
eta: I like the Hogue....also available in assorted flavors of wood
Try here: http://www.altamontco.com/products/pistol/ruger/blackhawk.php
I have large hands, but I find I actually prefer thinner, flatter grips. I have Eagle Gunfighter grips on my Bisley and NMBHs. I use checkered grips for low recoil guns, like my .357s, and smooth grips for my heavy recoil gun like my .44 Super Blackhawk.

http://www.eaglegrips.com/guns/Gunfighter-Grips-for-Ruger-Vaque.html
I really like my Herrett grips on my SBH.
http://www.herrett-stocks.com/

Check out Private's Custom Grips. The head honcho is a guy named Carl Schultz. He is a good guy and a thorough pleasure to deal with. His grips are second to none.


http://www.privatescustomgrips.com/


Fluffy
+1 on Private Schultz
These came from him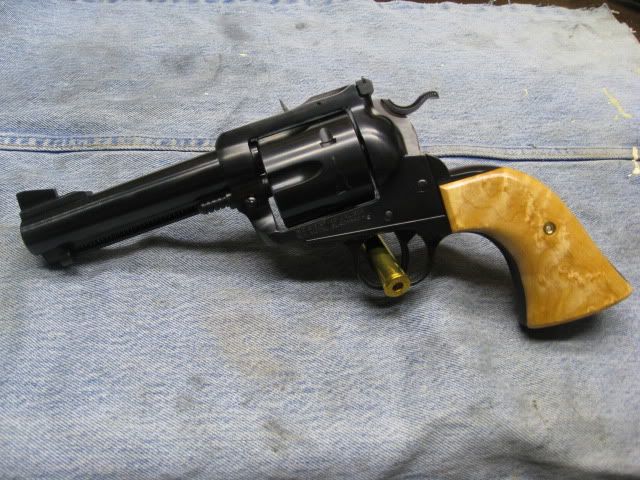 Yes! Yes! Yes! What beautiful grips and what a lovely revolver! You are obviously a gentleman of cultured taste and refined sensibilty.
Exactly what wood is that?
Fluffy
Why Thank You kind sir, they're Birdseye Maple
Buffalo Brothers has a large selection for Ruger.
http://www.buffalobrothers.net/grips/index.htm
I've been wanting a set of these, maybe after Christmas if I have any money left.