Thinking of buying a Makarov...
I want one in 9 x 18, and that's really all I know about what I'm looking for.

Are there any things I should steer clear of? Any countries that are generally better? Also, what price should I be looking to pay?

Thanks for any input.
I am not an expert, but the East German maks seem to have the nicest finish and seem to be the most desired.
That said, Bulgarians and Russian commercial are good too. Maks are really tough/reliable so just get one without major rust or pitting. I don't think you can go wrong unless one is old and worn out.
As far as prices, Bulgarians seem to be the cheapest maybe $250-300 (seen some as low as $200 at gun shows)...EGs $300-400...and Russian Commercial are usually 300+ from what I have seen.
I just got a Soviet Mak for $450 on cash and trade and that seemed to be a good deal.
Check out
Makarov.com FAQs
for more info.
Just out of curiosity though, what all would be needed to change from 9x18 to .380 on the same frame?

I'm not familiar with the Makarov (yet) but would it be like changing from .40 to .357sig? as in just changing the barrel and recoil spring?

Or would it require changing the entire slide? Would it even be possible?
You will need the .380 barrel, a Mak barrel press would be nice but isn't necessary. You don't really need to change anything else.
Ahhh so it's something that can't just be done in the field....

That would have made shopping easier as caliber wouldn't have really been too much of a concern...
Nope, the barrel is pressed into the frame. Without a barrel press or some type of supportive fixturing, it could be quite possible to break the frame.

Ok then it's 9 x 18 for certain in that case.
I used to have a bunch of makarovs. The Bulgarian ones used to go for $99.00 to $150.00 when ammo was cheap. I sold off all but one Bulgarian 9x18 and one Russian commercial in .380. The best deal going right now though is a CZ-82. Not a Makarov but very close, about the same size but holds 4 more rounds. They are available for less than the cost of Bulgarian maks right now.
here
Too bad that dealers are stealing mags from them now instead of selling with two.
A CZ-82 has a polygonal barrel rifling and a better situated magazine release. Safety on CZ is a bit better construction than the Makarov which is a weak design that can break.
.45 build from a pile of old parts, CZ-82 surplus and Bulgarian Makarov.
CZ-82 C&R but there are also CZ-83s that shoot .380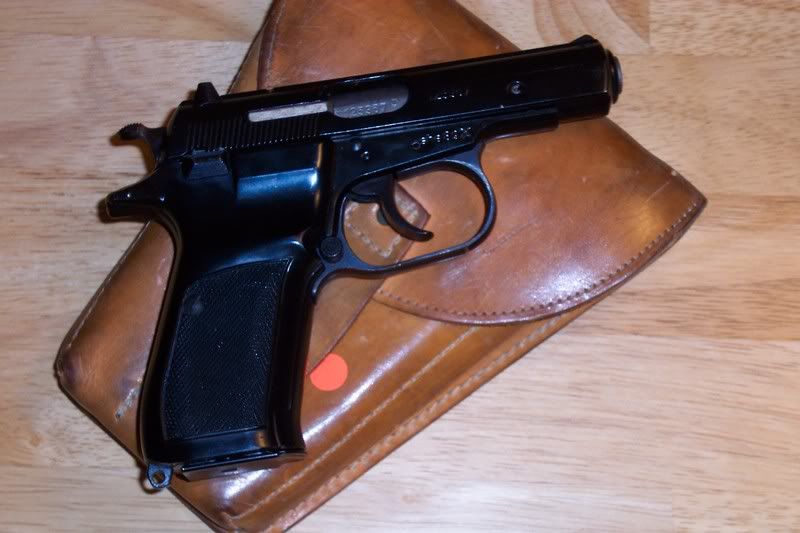 There are also the commercial new CZ-USA models
https://www.southernohiogun.com/index.php/handguns/used-handguns/cz-82-9x18-w-hols-andextra-mag-1.html
Maks are great little pistols, so are the 82's. I like them both but they are much different..
Prices USED to be in the $150.00 range but they have climbed quite a bit since they are getting more scarce..
IMHO Bulgy Maks are VERY nice but get bad rap when compared to the EG's.. The EG's are nice but the BULGY aint no slouch, I think they are just as good function wise but may lack the luster if the EG's by a bit..
I'm looking to sell one of my BULGY MAKS.. I just don't need two of them..
Couple PICS...
I have the E.German. One of the most accurate point and shoot handguns
I own. Bought it years ago paid $139. I don't know how much they are now.

I've owned Russian mil and commercial, E. German, Bulgarian and what was sold to me as Chi-com.

I currently have the E. German and the Russian Commercial (adjustable sights). From all that I've seen, handled, fired and owned... the E. German is head an shoulders above the rest in finish detail. Other than that, they are all pretty similar, very reliable little handguns. All of them, exccpt the E. German, showed milling marks and had some interior ugliness...Is it worth the premium E. German Maks go for?... I dunno.

I've had mine since the early to mid 90's and they've shot great with out any major maintenance, only general cleaning.
I got lucky yesterday and while doing the gun shop and pawnshop tour of the city i moved to found a bulgarian mak listed for 150.
Decent shape a bit of holster wear, only 1 mag, barrel in great shape and had the nice aftermarket pearce grips.
Talked him down to 130. I'm a happy camper now. Already have a bunch of 9x18 from the cz-82 I love.

Had initially passed over maks and went with the cz because i'm a lefty and thought i wouldn't use the safety. But its not in a terrible spot for a lefty and only works as a decocker and apparently lots of people carry them with the safety off and one in the tube.

In any event its nice to have another pistol in the stable and the thing points well and fits the hand well. Quite a few less parts compared to my cz-82
Ya done good. I am getting my first one soon. Paid $240 for it. Probably about the same condition as yours. It was the only one in town though, so...
Damn, $130? You stole that mother from him? A little holster wear? Who cares?! Hey poster, God forbid the name but do a little Gunbroker search. I was looking for one for a friend yesterday and there are plenty of Russian and Bulgarian going around for around $300. Yeah, they're not $100 like they were years back but they're still a damn good pistol for the money. Granted, it's not a brand new SIG P226 but those things are awesome. I carried mine until I got a Glock 26.

And by the way, stay the hell away from the ones in .380 because it's a waste of a caliber. I highly recommend not carrying anything below 9mm Luger. And yes, that includes .22. But I'll make an exception for 9x18. Seems to have a decent terminal ballistic profile (although not optimum, hence the Glock for me) and will definitely get you out of a jam. I'll never be without my Russian Makarov. But this comes from a guy with 4 AK's and 2 Russian wristwatches so I may be a bit biased.

A friend of mine shot a guy in the side of the head with a .380 years ago from about 5 feet away. Didn't kill the guy. Didn't even fully penetrate the perp's skull. Granted, I think the guy spent the rest of his short life shitting in a bag (in prison) with partial paralysis but he sure as hell didn't kill the the guy. Fortunately, my buddy got himself a Public Defender and still ended up beating that case without breaking a sweat. My friend got his pistol back and currently has a notch in the handle of it. He says if he ever shoots somebody with it again he'll put another notch in the handle. True story!