Optics for Mark III
I ordered another Ruger Mark III today. It's the stainless hunter with 6.8" fluted barrel. I already have the 4.5" stainless hunter and a 5.5 bull Mark II and I. I have a micro dot on my 4.5" hunter and it's a dream to shoot. I'm looking to put a handgun scope on the new 6.8" hunter once I get it. Any suggestions? Shooting ranges are going to be from 25 to 100 yards. I may do some vermin popping with it and a lot of steel plinking. Budget is probably around $50 to $150. Pics of your setups is a appreciated.
One of the nice things about a good .22 is the near-rifle level of accuracy. On my MK III Hunter I kept iron sights, but replaced the rear sight with the VQ Bomar-like rear sight and replaced the front sight with a serrated post. I can't stand the V rear/rounded HiViz front combination. On my MK II 678GC I put an Ultradot L/T mini-holo site. It works well, but may not have the range if you want to shoot out to 100 yds, but on my .500 PC Hunter I put a 2x Weaver scope in Warne Quick Detachable mounts. It allows me to easily switch between scope and iron sights. You might want to consider something like that for your Hunter, perhaps with one of the variable handgun scopes.
primary arms reflex $80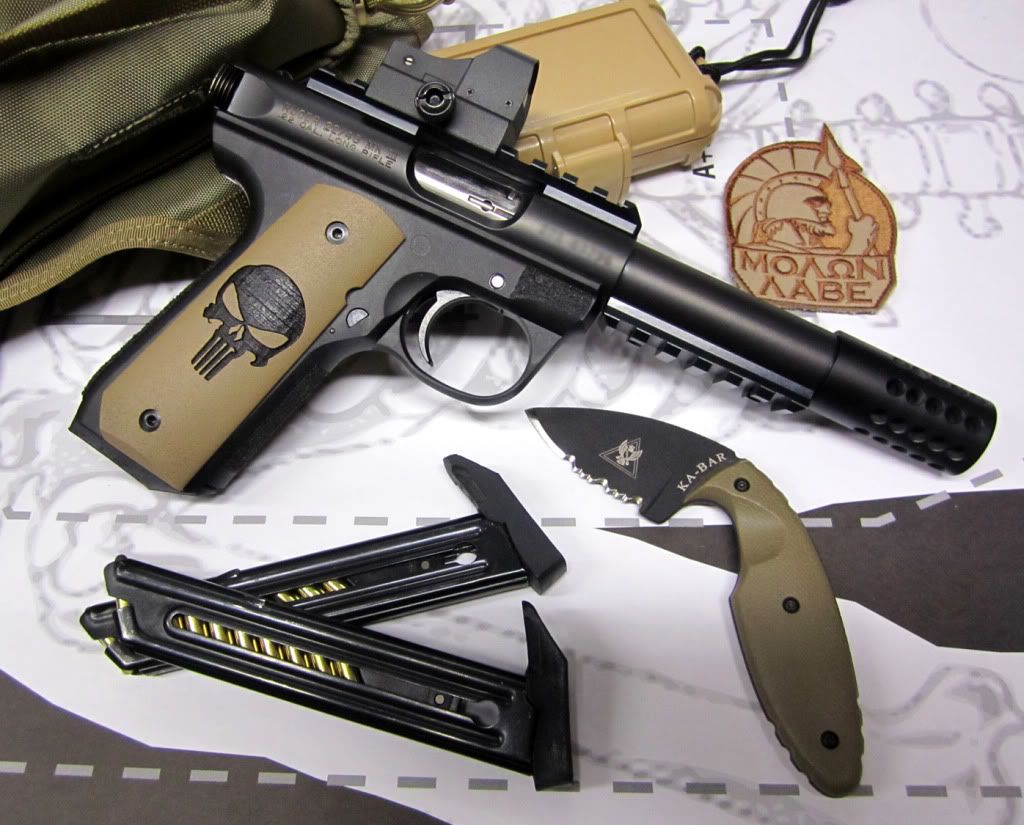 That's a nice looking 22/45. The PA green dot would be a perfect fit on my 4.25" hunter but I want a little magnification on this longer barrel. On a perfect day I can ping 3 out of 10 on a 12" steel at 85 yards with my 5.5" Mark II. I want to improve that with this longer hunter and optics. Did I mention that's a sweet looking 22/45?