Hello, I have been wanting to find a paint color to match my Daniel Defense RIS II rail, in what they call Flat Dark Earth...
I have used rit dye on other plastics in the past, and I know it is resilience and durability.. so here we go.
WHAT YOU'LL NEED
-1 bottle of liquid rit dye (I chose their color "dark brown") $1.94 at Walmart
-1 plastic coat hanger (you will use this as a hook, it will be broken)
-1 cooking pot (large enough to fit the largest piece you are dying)
-About an hours time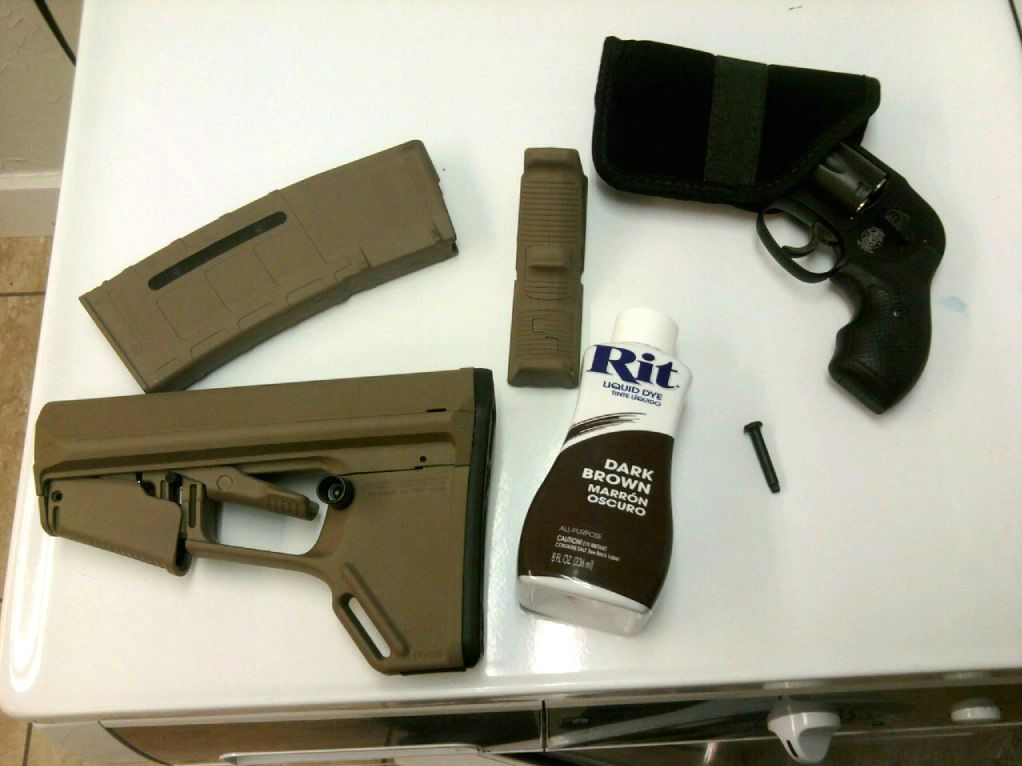 this is all the parts I decided to dye
Step 1
-Disassemble your PMAGs
-Fill your pot about 2/3 full and bring it to a simmer
Note: you do not need to bring the water to a boil.
-Add ~3 ounces of rit die and stir with your broken coathanger
Step 2
-Insert the first piece you want to dye
Note: I chose the smallest piece which was my Magpul AFG
-Let it sit, checking it every minute until desired color is reached.
Note: 5 minutes turned this FDE mag into this...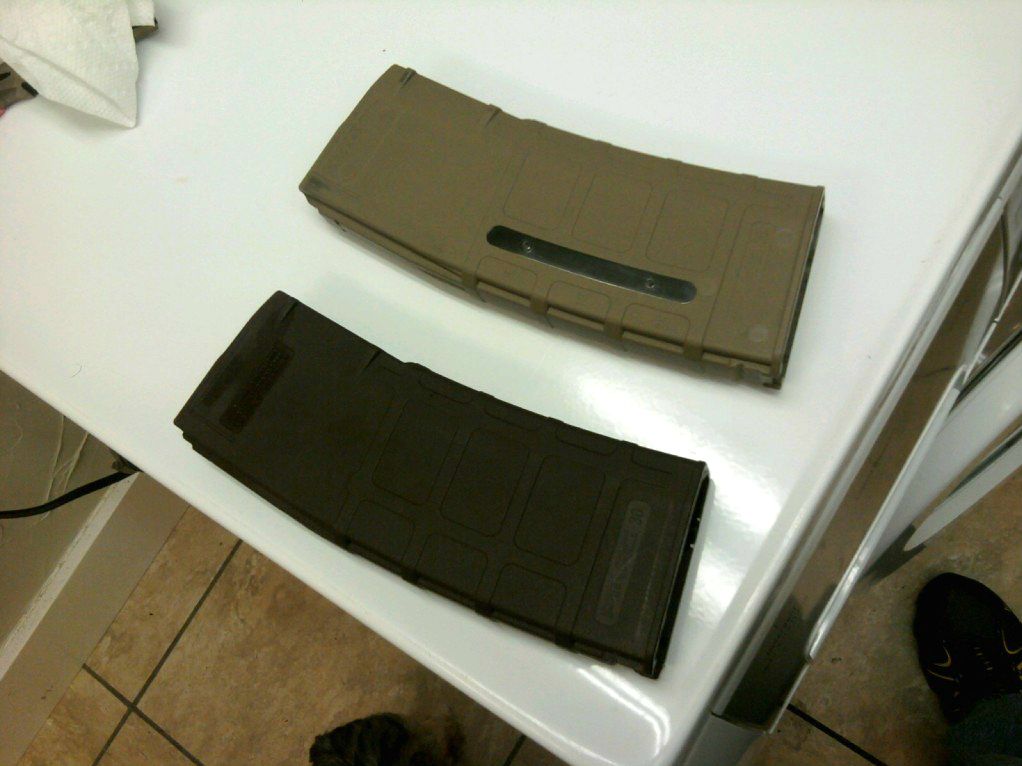 And 3 minutes changed the second one to this...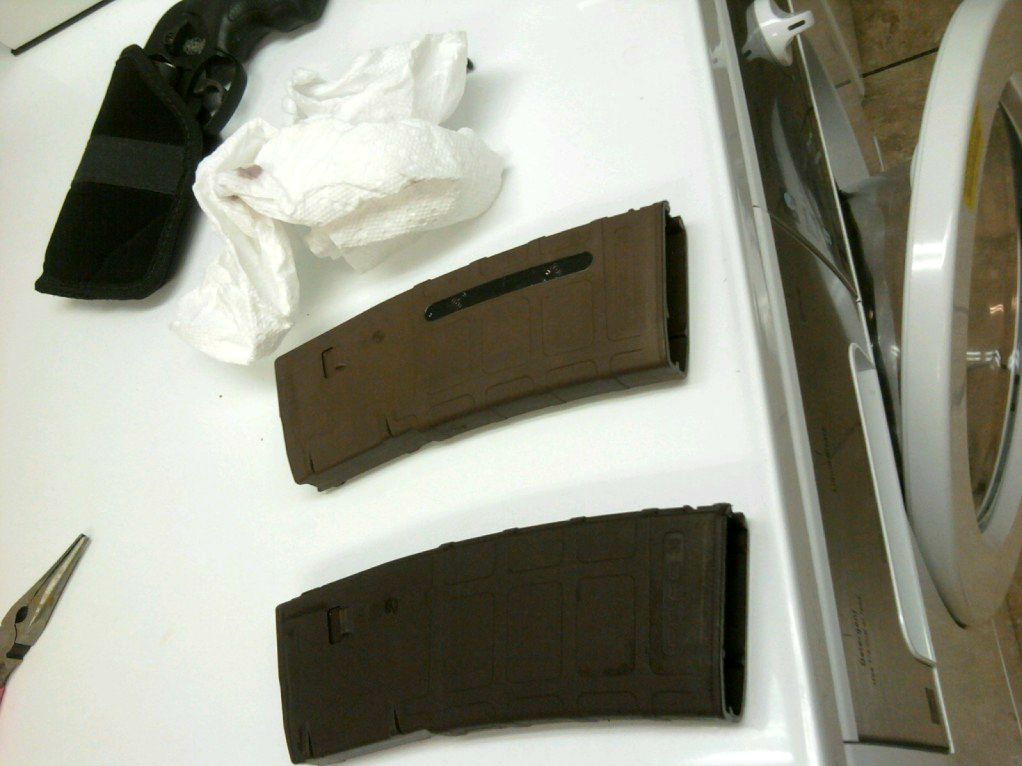 Step 3
-Remove from the pot and take to sink
-Rinse with cold water, until no color is visible in the water draining off the part
Step 4
-Dry thoroughly
Note: I used wife's hair dryer to speed up the process (plastic got hotter at this point than it did in the water!)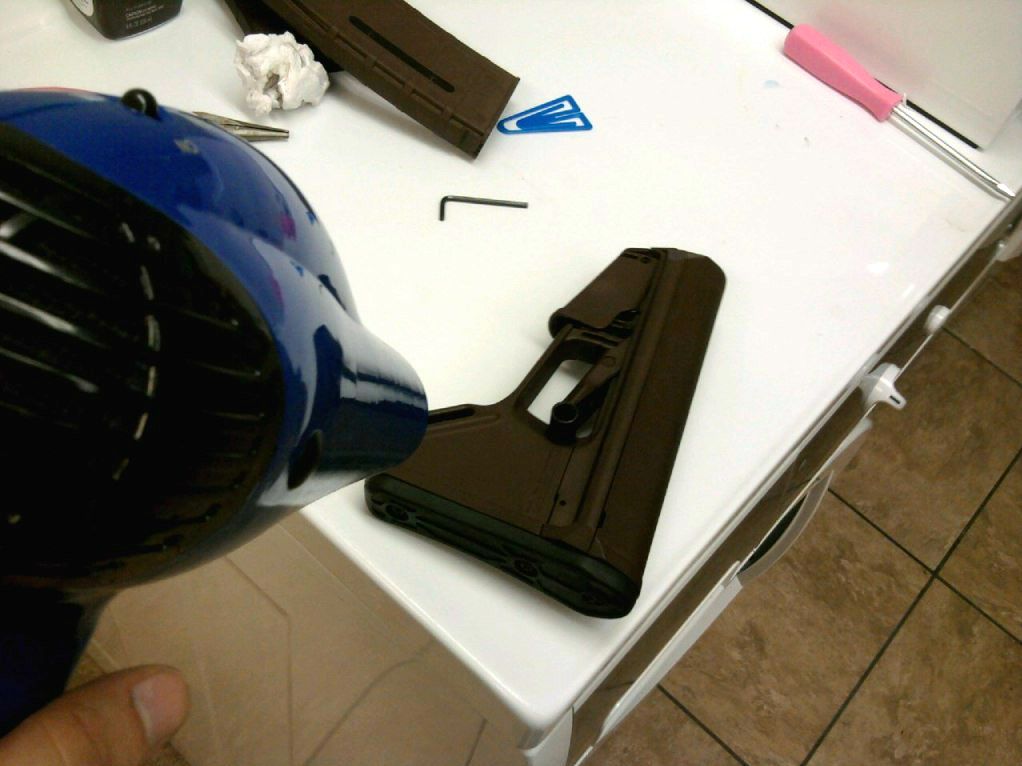 And The color
Step 5
-After dried thoroughly, and cooled, install on rifle (I was lucky getting so close to the color of my DD rail, I am very happy with the results.)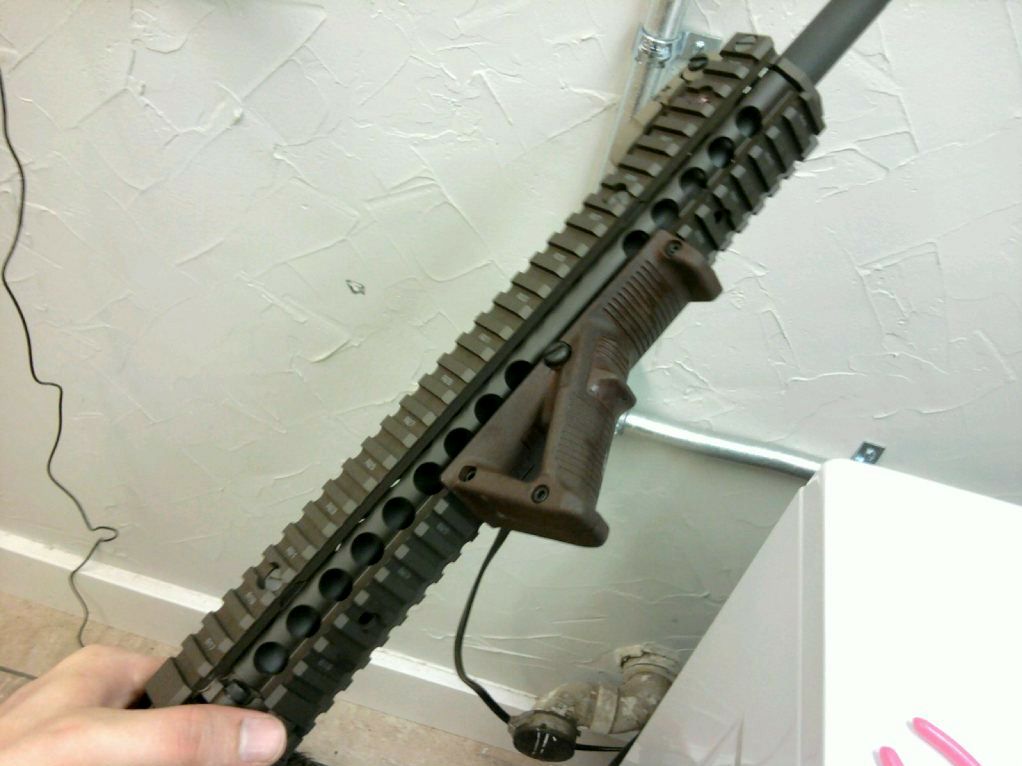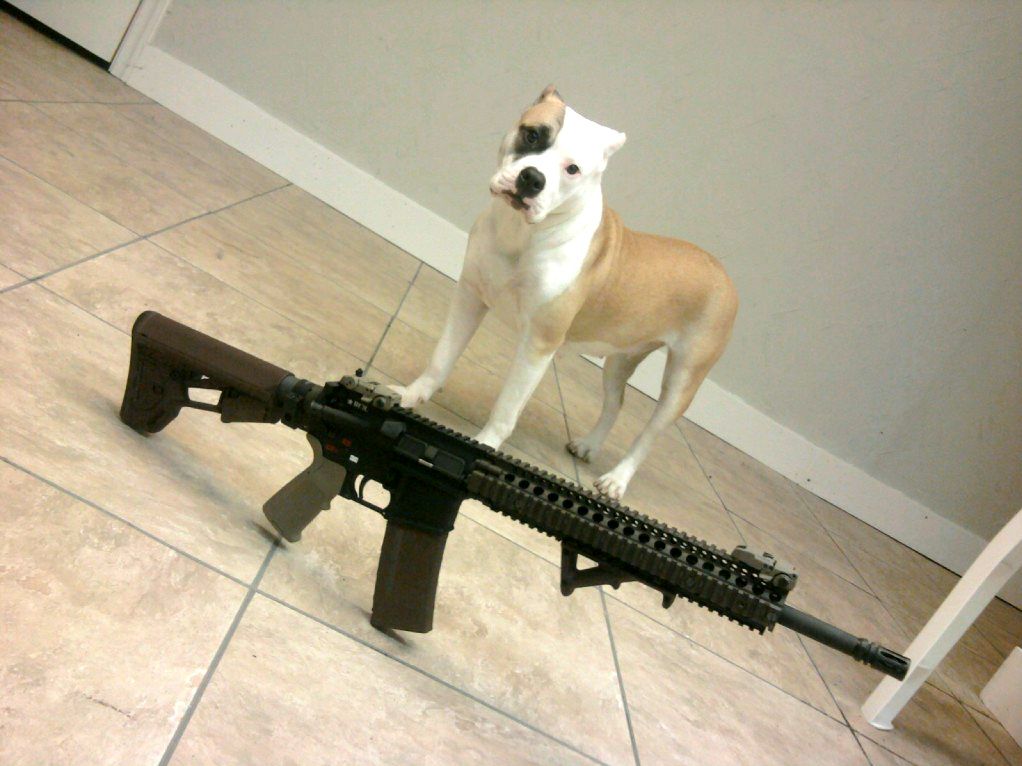 Comparison
BEFORE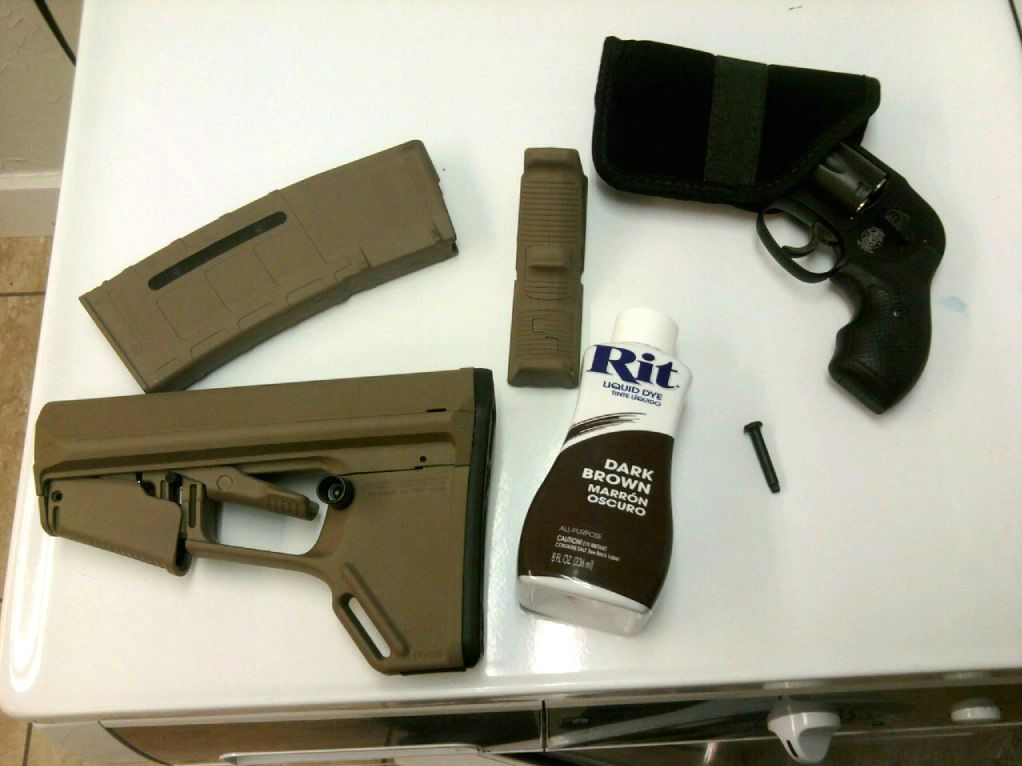 AFTER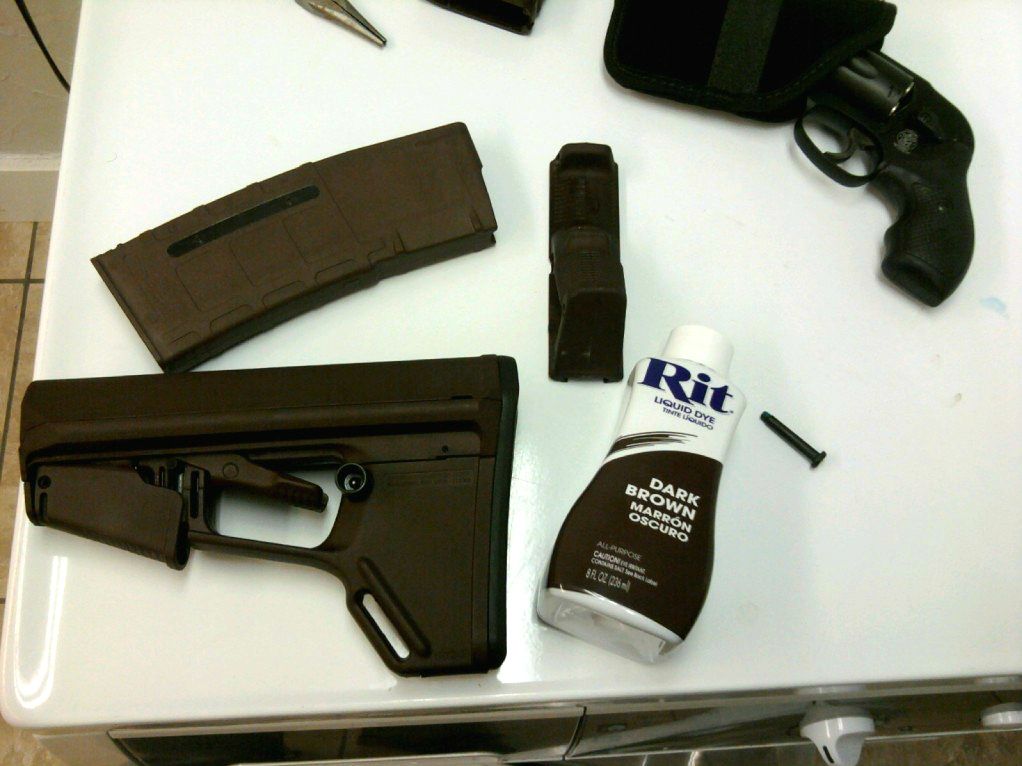 I had some extra time, so I decided to dye a mag pouch, it wouldnt take color very well.
Originally Posted By AR15fan:
Did you remove all the metal hardware from the stock?
Why didnt you do the pistol grip and MBUS to match?
Only thing I removed from the stock was the rubber backing, although I think it could have withstood the relatively low temps. I did blow dry the stock, and make sure it was completely dry before install. Everything is a slightly different brown, so I chose to leave them tan, to have a broader spectrum of browns on the rifle.
What color did you try with the ACU mag pouch? It looks better then regular ACU to me.
Originally Posted By InfiniteGrim:
What color did you try with the ACU mag pouch? It looks better then regular ACU to me.
just tried to darken it to make it blend better in the Southeast US it actually took some time to look darker but it is pretty dark now... pics ON THE WAY..
it doesnt really look like woodland MARPAT, just really darker than the ACU without the darker hues of marp.
Originally Posted By avtomatwasr-10:
How did the pmag ammo window turn out? Was it tinted by the dye?
I plan on getting a Pmag (with round count) and doing a bakelite color like a fellow arfcommer already did.
the window is totally clear... to my surprise