M203 standalone stock using AR parts - why has no one tried this?
Well, maybe they have, but I've never seen it.
Looking at 203's and standalone stocks for them with the standard mount (not rail mounted), the only real option seems to be the KAC which is super rare, and costs more than the launcher itself.
Is it just that the market is so limited? It seems like it would be an easy thing to do to build something like this:

I'd do it myself if I had any equipment and knowledge of welding- but rather than paying around $2K for a KAC standalone, why hasn't anyone just taken an upper and lower and re-welded it, leaving the barrel and barrel nut to mount the 203 on.
It seems like an easy enough modification, and any drop in rail system could be used, perhaps even a midlength rail (pimp my gun doesn't have a middy option
), which would retain the functional and needed parts without extensive re-design. Already available drop in rail systems would make mounting of sights feasible as well.
I know particularly in military applications with the MK13 EGLMs and XM320s, things are moving away from the use of the M203, but I wonder why this hasn't been done earlier?
BTW- the shortened MOE stock in the picture is intentional, to make the package even more compact, since there's no need for a buffer system, a receiver extension could be cut and rethreaded, and a shortened stock mounted- it could still be extended for stability when firing.
Anyone who can weld want to help build one?
~Augee
I would not cut up a lower receiver to do that. If you are going to go through all the trouble of making a stock for the M203, you might as well start from scratch and design a proper mount for the M203 and a housing for the buttstock, grip, and rail portions. Then have the part machined for a lot less than KACs.
<––––You mean like
KAC
did?
Your prospective product there is about 1000 times more complex than it needs to be.
And really not very practical...but they make 'em.
Point is, KAC did do the whole re-design thing, but commercially the prices are atrocious for standard mount solutions. Rail mounts are not as bad.

As for added complexity, I'm not sure I follow- the M203 was designed to be mounted on an M16, this is just taking the original mounting components and condensing them. No "custom" parts required, if you have the know how and equipment to weld aluminium, it can be assembled using no more than a bandsaw and off the shelf parts, which was what I was getting at. The only costs would be the components and labor.

I could break out the paper and pencil (I'm old school) and design a new unit, but it would take a machine shop to bring the design to fruition, and tooling ect. would end up costing quite a bit, and the costs of production would make it unrealistic if I was only wanted one for myself.

At the same time, my other question of why hasn't anyone designed and marketed a low-cost M203 standalone stock remains, though I suspect the answer to be limited market. Being a conventional-type fella, though, I'd've liked to see a standalone stock solution for the M203 my last couple of trips, rather than strapping the rather ungainly thing to an M4.

ETA: This is not something I'm personally looking to manufacture and market- it'd be nice if there was a low-cost option, but I haven't got the startup captial for that kind of venture, I haven't even got a personal M203 yet. If anything, I'd be interested in having one for myself without having to buy a KAC unit- so again, the point would not necessarily be a highly practical item, but something that could be made with COTS parts, i.e. I wouldn't have to manufacture anything myself, just "reassemble."

~Augee

It just clamps to the barrel... all you need for a mounting system is a steel bar or tube the correct outer diameter and length. Grip, stock, and a sighting system completes the essential elements.

For .mil use would be a lot less expensive to dredge up some M79s out of storage somewhere.
Start with this:
Or, buy this for $500, also from Spikes (launcher, sights not included)
Originally Posted By Gamma762:
For .mil use would be a lot less expensive to dredge up some M79s out of storage somewhere.
Would've if I could've, '203s're what's on the MTOE, '203s is what I get.
This isn't really for military applications, though. Just something I'd like to have, when and if I get an M203. The idea is low cost- no machine shop or machine tools.
~Augee
That's the idea, something similar but for a standard mount.
Without a doubt one could be easily designed and built if one had a machine shop. I have not. I'm not an engineer or designer, either, so I couldn't use machine tools without being taught, or write a CNC program. I could draw a design on a piece of paper, but I'd still need someone to fabricate it for me. I suspect that there would be cost associated with this.
Cutting up a spare upper and lower and using other parts I've already got lying around and welded back together by someone local who can follow directions wouldn't cost me more than a few bucks- specifically because there aren't cheap solutions available on the market.
Does someone think they can fab one that would cost about $300, including labor? That would bring the cost in line with standalone stocks/grips for rail mounted launchers.
If I drew a design?
With no plans to build or market more?
If so, I'm all for it.
No one's done it yet for standard mounts. Is it because I'm the only one who would want one? It's fine if y'all think it's a stupid idea and wouldn't want one.
I'd chuck a couple hundred bucks at a thought experiment to give it a try. I wouldn't bother spending too much more to have a custom designed one-of product. Or maybe I'm over-estimating fabrication costs? Am I? Can the above be done? I'd finance a one-off if someone could do it at $300.
~Augee
Originally Posted By Augee:
Cutting up a spare upper and lower
You're way off track IMO.
Take one of those shotgun stock deals and put a steel bar on it to mount the M203 on. Probably take a drill press, maybe have the steel lathe cut to the correct diameter. Run the steel all the way to the back of the "buffer tube" on that stock and fill it with epoxy.
Originally Posted By Gamma762:
Originally Posted By Augee:
Cutting up a spare upper and lower
You're way off track IMO.
Take one of those shotgun stock deals and put a steel bar on it to mount the M203 on. Probably take a drill press, maybe have the steel lathe cut to the correct diameter. Run the steel all the way to the back of the "buffer tube" on that stock and fill it with epoxy.
That's an option worth exploring. A little lathe work would be a lot easier (and cheaper) than a full up manufacturing job.
Thanks for the input.
~Augee
A solution looking for a problem?
What is your intent? To adapt 1-25 each 40mm M203's (barrel mount) over to a standalone system?
To start mass producing a mount for 25+ orders?
Whats wrong with the KAOS from Spikes? Or the LMT standalone?
Who would buy a stand alone mount for an M203 barrel mount system? National Guard / Reserves? Impact card purchase 3-4 units at a time, every other week to get around purchasing restrictions?
Not punching holes in your idea, just trying to understand
IF
there is a market?
The reason why the KAC mount costs so much: a deep pockets customer came to them and said "I don't care about cost, make this and make only a few because we want XX many, it has to be light & not break too!"
That is why short run items cost so dog-gone much!
Me personally if I 'HAD" to adapt ONE barrel mount M203 over to a grip stock stand alone platform: I'd SELL the M203 barrel mount and BUY the M203 rail mount... I think it would be alot cheaper!
If you wanted to be creative for ONE mount: look at getting an already made standalone adapted for a ruined barrel or rod and have it mounted then the M203 mounted to it. But it'd be FUGLY & might not work. But hey - thats why its a HOBBY right?!
~Will
Airtronic makes a stand alone mount for about $300.
Why don't people remember this stand alone unit. I have posted it several times. They are cheap and available. I have my rail-mouint M203 on a LMT pistol-grip stand-alone unit to be holstered but I have my traditional M203 on this one.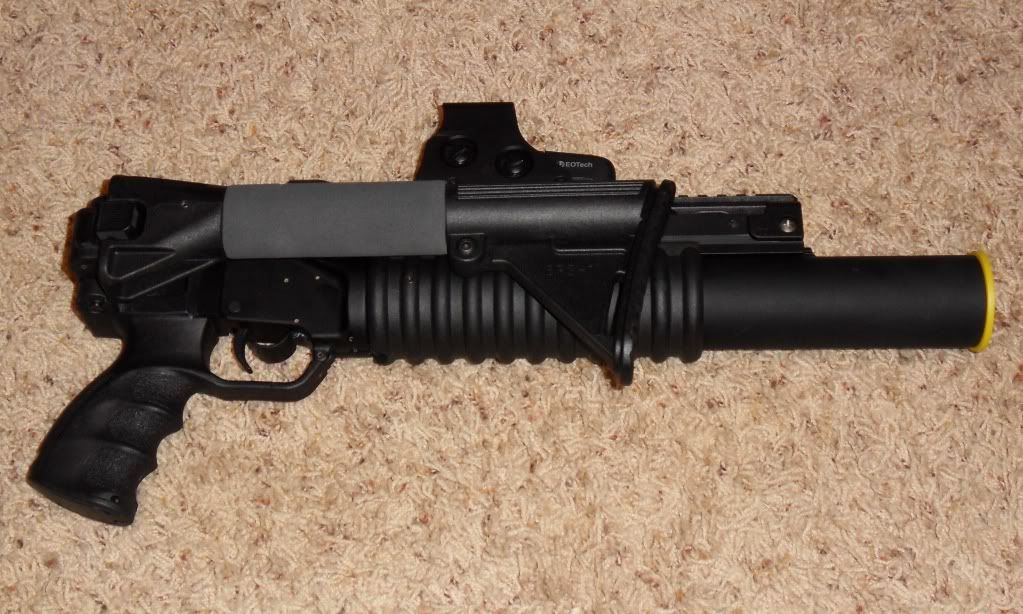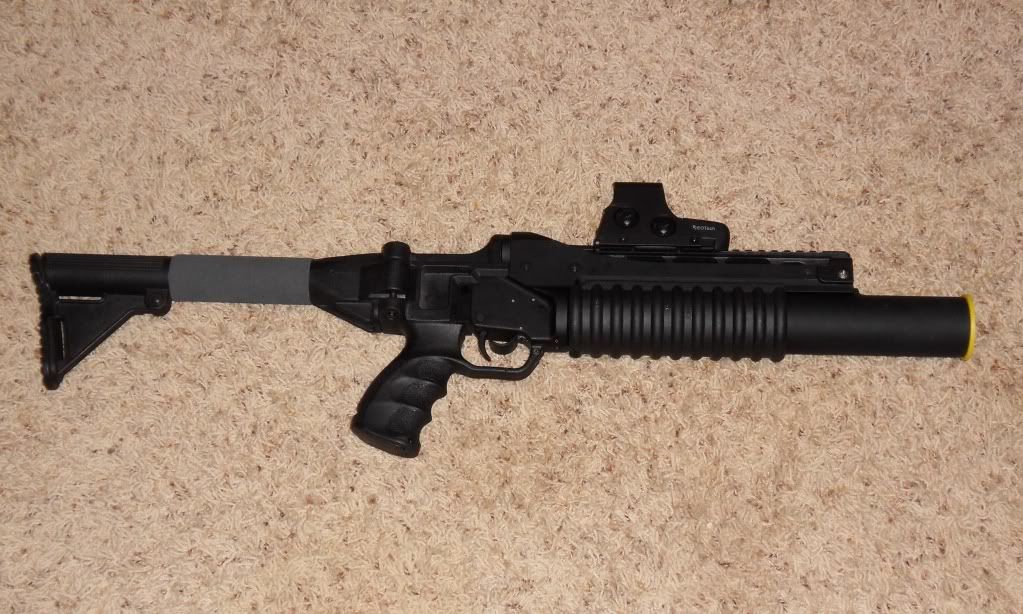 The first design is actually patented by Colts back in the 1990's. The device patented is actually the grip adapter that allows the M4 stock to be mounted on the barrel that the M203 snaps onto.

They (Colts) did not get any to little response from the military market and from what I was told they only openly sold 2-3 M203;s into the civilian market through DD Dealers through that time frame and did not perceive the civilian or police to be a good market. Count less than 25 Class 11/12 dealers who may get a letter to buy a M203 and now LMT will sell a M203 receiver to approved US persons.....opens the market some......but not enough to be profitable.

There is a commercial company in Virginia that has made a modular M203 stand a lone unit for under $400 that allows a variety of laser, GLM sights, and some such added as long as the barrel is the 9" model. There is even a back plate that allows a FN SACR stock to be mounted or when removed the H&K M320 stock can be used. They even have a belt and MOLLE mounted holster for air mobile and EP types. They have not manufactured any other than tool room jobs since they are busy modifiying M79's into whippet guns for Special Ops.

Most companys don't want to tool up unless the US Military or Export market has a demand for the product. Knights probably doesn't sell 250 of their stand a lone M203 units in a year.

I read a US Army press release that only 70,000 M203s are in the US Military inventory. I saw a Colt Defense M203 with a serial number in the 200,000 range......so there must not be a lot of demand for M203 gear.

Good effort though.
.
Nope, don't remember that unit, but it looks like it would satiate me.
Info? Link?
Thanks,
~Augee