Like everyone else I'm disappointed that Sig failed to supply the 556 with decent sights. The complaints have fallen on deaf ears at SigSauer. Their pitiful attempts to rectify the problem with the too tall diopter set, and the flimsy front flip up/nail file rear are a joke.
What all of us wanted were the Swiss Sig 550 type sights. Aurora tried to meet this need with limited success due to poor quality control and manufacturing. MFI developed some prototypes and even went into production with their version but supplier issues(air bubbles in the steel rail casting) have stopped that effort.
MFI Drum rear sight
MFI hooded front sight
I had a set of the MFI prototypes for review and input (archived here somewhere), They were exactly what we wanted for our 556's, but I had to give them back
. MFI is looking to put them back into production with a CNC steel rail from a different machine shop. If you're interested call them and let them know.
But in the interim the MFI MAD sight set is available now.
MFI flip up front
MFI MAD rear
They are available separately(front or rear) or on sale now for $90.00 a set. I'm not going to do a big dissertation on the sights because all that information can be found on MFI's website. But I will share my thoughts after installing a set on my 556.
As is usual with MFI products the fit and finish are well done. The installation was simple and straight forward without the need to do any individual fitting. I ordered a separate front sight complete so I wouldn't have to change out the front sight blade from the target style to the fiber optic dot.
Complete sight set.
Comparison of front sight blades.
In actual use I found very little difference. The target blade is .080", with the fiber optic blade being a little wider due to the size of the element. I consider these sights as back up, not my primary sighting system so I would opt for the fiber optic dot, better in low light conditions. The front sight is made entirely from tool steel, parkerized and then black oxided. It should be very durable. The blade lifts into the up position easily, but stays up due to the spring loaded ball and detent. Front sight windage is accomplished by turning the hex head wheel left or right with an Allen wrench. It would be helpful if the adjustment wheel was engraved to denote bullet impact(L or R).
Sight picture with the fiber optic dot.
Fiber optic blade, up.
Target blade, up.
Front target blade down.
In the down position you can still see the sights base in the lower 1/3 of your optic.
The rear sight clamps securely on the rail with a hex head screw. The rear sight base is anodized aluminum, with the upright MAD made of tool steel with (4) aperatures of different sizes(for sight picture/lighting conditions). The rear is adjustable for windage only, with the engraved thumb screw on the right side of the sight base. As with the front, the MAD is easily lifted to the upright position, and held in place by a spring loaded ball and detent.
Windage adj., rear.
Rear sight, up position.
Rear sight, down.
On my 556 I have a Trijicon TriPower in an ARMS #17 mount. This set up provides an absolute co-witness.
Overall I like the sights, and think they are a good value at less than half the cost of Troy sights. The MFI MAD sights would also be a good option for Sig 522 owners.
Sig 556 porn.
That rear sight looks fantastic and exactly like what I would like for my 556 Classic. However, according to their website, it doesn't look like it will line up with the hooded front sight on the Classic. I like the hooded front sight on my rifle just the way it is, and I don't want to replace it. I purchased a SIG rotary diopter rear sight, which worked fine in theory, but I wasn't impressed with it in actual practice, just not good enough quality. My 556 is currently wearing a TA01 NSN ACOG. I'd love the find a quality rear sight that would work with the Classic front. If I ever do, I'll move the ACOG to an AR and go back to iron sights on the SIG. I'll probably also SBR it at that point.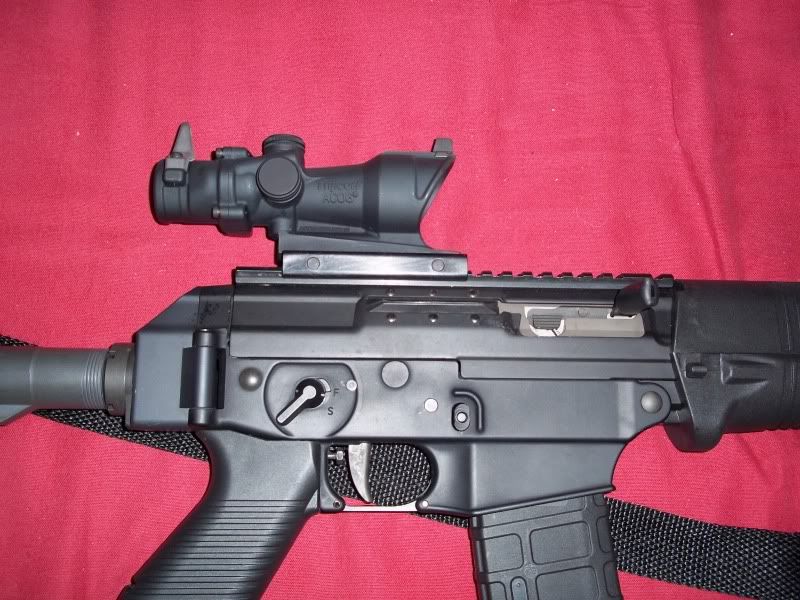 had me hooked until I seen it isnt compatible with the front hooded sight. I like the front sight. I will just continue to wait for something else...
That looks great!
I wish they were around about a year ago when I searched for the iron sight setup I have now on my 522.... it would have saved me about 70 bucks over the MI front and Magpul rear.