Almost finished with gun room!
Well thanks to this site I am almost done with my gun room. Just a few more things to paint. I was wondering if anyone knows how I can post pics with just my iPhone or tablet? Since we moved out of town that is my only internet option and I can't post a pic yet?
Thanks and pics on the way
Download the photobucket app.

Upload photos via app

copy [img] code and paste into your reply.
Thanks I ll give it a try.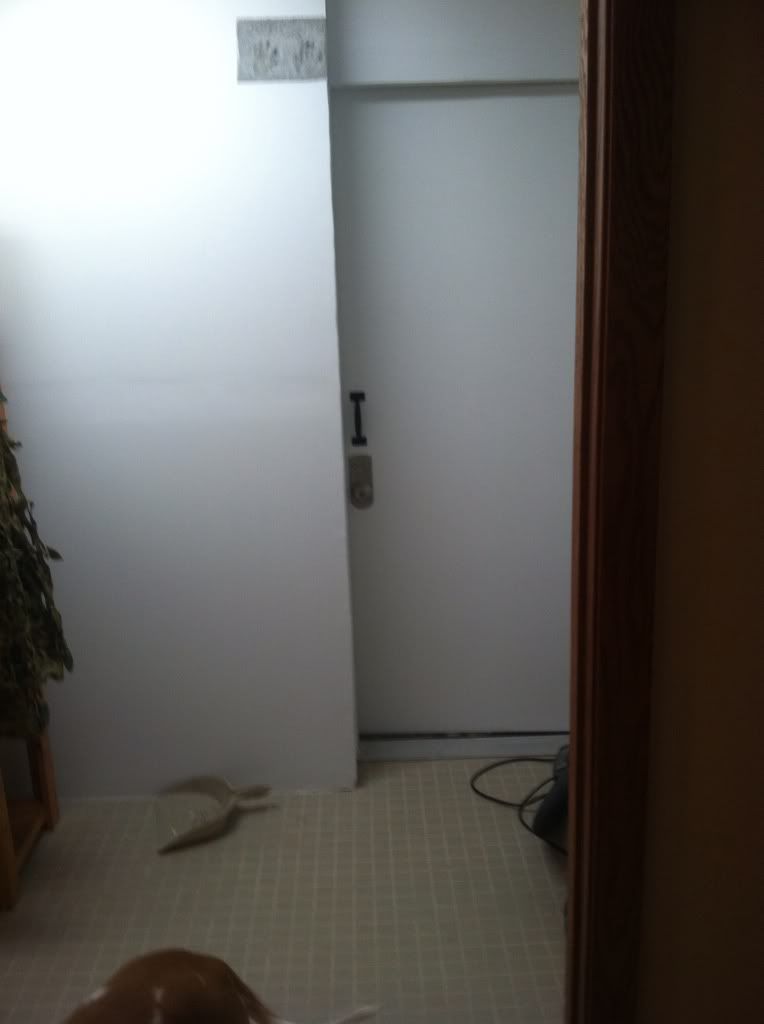 That's looking into room from the hallway. Safe room is block and filled the cores with cement and rebar. Still saving for a better door. But for now the steel fire door will have to do.
This is one shot inside. I ran out of hooks. I only bought a sample pack so only a few guns on the wall. Still have to move my store bought safe into the room for ammo and documents and a few rifles I want to keep extra safe.
Forgot to say. In the first pick the block that's showing is a chunk of cement the kid was Playing with one day while I was working so I had her put her hands in it and I incorporated it into the blocks around it
Looks good. Was the fire door something you can get at Lowes / HD, or did you have go to a speciality store?
Pro-Tip: Put heat shrink tubing on the hooks so they don't mess up the finish on your guns.
Looking good though.
Yes Lowes will have similar door. Got the idea from the paint shop area at my work. But I know if the house s burning down not much will stop it from getting in and that's OK because I will have alot more to worry about than some guns.
Thanks for the tip! After I get a good idea of how many hooks I need I was wondering what to use if anything to protect the guns a little more. I will def be using that idea thanks again
I can only see the pic of the outside of the door with the handprints on the block.
Sorry ill repost it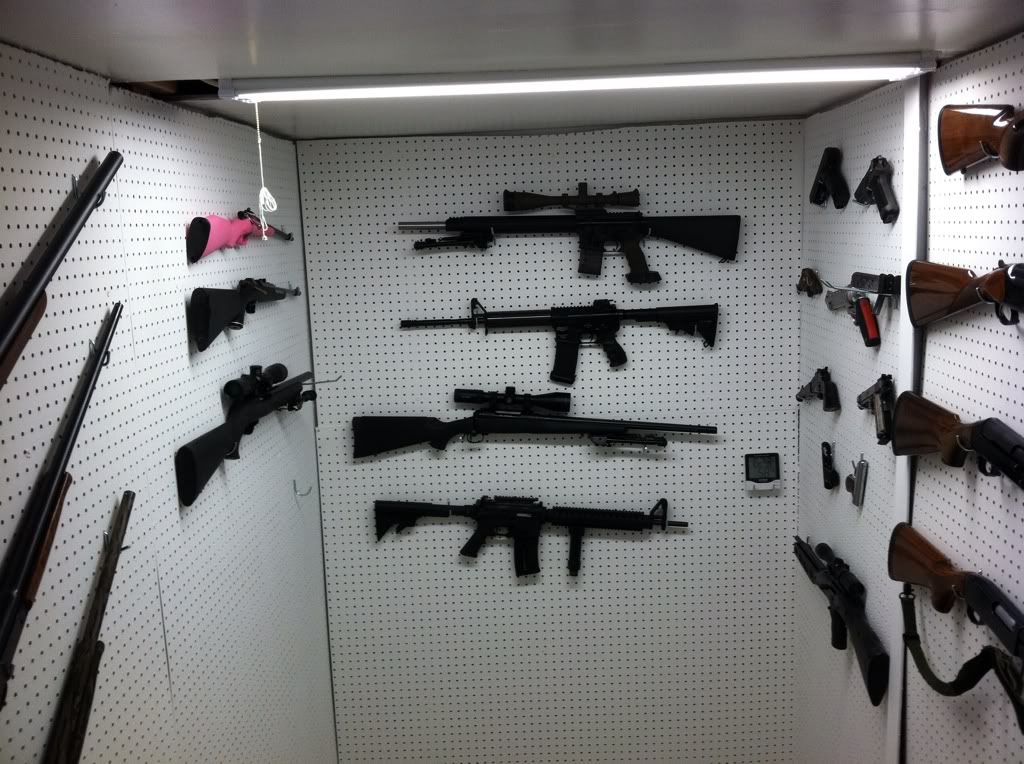 thanks.... looks good!
Cool. What are the dimensions? Is you whole house cinder block?
Basement is block cut into a hill. I used an existing corner so only had to build 2 walls. The dimensions are about 12 long by 6 wide with 6 1/2 tall ceiling. First room u walk into before the safe is same length x 6 or 7 wide and 8 foot ceiling.
I lucked out. Was telling my neighbor my plan to build one some day and he says oh well over by the barn I have 5 skids of 60lb blocks that I been trying to sell for the last few years. Then says I can just have them wants them gone!
Then years ago I used to lay tile and happened to keep a bunch of the left over ugly 2x2" tiles from a factory job. Finally had a place to use them.
Then took out a line fence for the farmer down the road kept the steal posts and used them in the cores of the block as I filled them with cement.
Its to bad the door sucks or it would be very secure I think.

Looks good......but.......do you have air circulation? Seal the concrete block? I'd worry about moisture with dirt behind concrete and no conditioned air being pumped into the room. Does look good.
I have a small vent tied into the house heat and AC. Sealed the block with store bought paint on sealer. I don't have much faith in that stuff so i do have a dehumidifier in there also. I'm going to monitor it closely and with any luck I won't have to run it 24/7. Maybe add a small fan or mini dehumidifier if i can find one just to move a little air. The vent I installed is very small so i don't know how much heat /AC will get in there exactly.
Very nice. Can't see from your pic so not sure what lays to the right of your door. If nothing in the way, you could build a sliding bookshelf/storage shelf to camoflauge your door? Crooks can't get into a room if they don't know it is there. Looks like the shelf could slide to the left with plenty of room to spare? Just an idea.
I was thinking the same thing! Either slide or pull forward on some caster wheels?


OK I'm not liking my humidity readings. Its been a while now and with my dehumidifier on high I can get the room down to 50% but that also raises the temp in the room. Checked it tonight before bed dehumidifier readings say 70 degrees and 50% percent humidity. Wall mounted sensor says 68 and 53% humidity. I've been searching and can't find a definate answer as to what % humidity is perfect? I also read as long as its consistant then its OK to be a little higher? What so u guys think? It sucks because so far I have been running the unit 24/7 on high so I'm thinking that's going to add up.
Oh and the temp in the rest of the finished basement today was in the low 60s. Outside was 75 degrees or more today and not typical for this time of year. There saying we should expect another freeze before the end of april
Anybody have some humidity tips? Maybe I post a seperate post asking?
Advice: Don't worry unless it actually has some effect on the guns.


If i wait to see if i get any surface rust then its too late. I'm trying to avoid letting it start in the first place
Originally Posted By grabagear:
If i wait to see if i get any surface rust then its too late. I'm trying to avoid letting it start in the first place
Place a few pieces of bare steel (cheap stuff from 'Depot) on your racks and wait a week to see what happens. The guns that are finished and oiled will be more tolerant thant the bare steel. Also realize that it will take a while for humidity to stabilize in the newly closed off room as the moisture gradually moved out from the concrete, wood, drywall, etc. as you remove humidity from the room. Consider also using some of those little anti rust vapor capsules strategically placed around the racks.
Sounds good / makes sense. I will try it. Thanks for help!
Did you seal the walls with that thick urethane stuff or the thin Thompsons sealer?

Did you seal the floor? I can't say that 50% is bad, as I don't think you'll ever be able to get a 5% desert humidity level in a whole room.

If it's not a problem in your tests, I wouldn't worry about it. The only thing I'd be worried about is 80% in an 85 degree room. Remember humidity is relative. 50% in a 60 degree room is not near as bad as 50% in a 90 degree room.

Originally Posted By SGocka:
Pro-Tip: Put heat shrink tubing on the hooks so they don't mess up the finish on your guns.
Looking good though.
That's a good tip. I'll have to keep that in mind.
To check for moisture on the floor, take a piece of clear plastic, tape it to the floor, (seal all 4 sides) and wait a week. After a week check it. I would leave it for a few weeks to see what kind of moisture, if any, that you have. If you have moisture you need to seal your floor. I guess you could always try this on the walls also. If your floor is sealed and it is seeping moisture you have other problems.
Nice gun room by the way.

The walls where with the thin aka cheaper stuff
I think the floors are good to go. I didn't seal them with sealer because I wanted the thinset to adhere properly for setting the tile. But thanks for the tip I will try the plastic on the floor trick too!
I know humidity is relative to other factors. I always thought if its consistant its most likely OK but admit I don't know to much about it I guess. Looks like i better do some research.
thanks
50% is going to be fine. You dont want it to go over 55% though.
Thanks! Its been a while now and it has been steady around 50-55% but its also been cold outside. Wnt from 80 to 50 for a high these last few weeks. Cold today and I heard 75 for Sunday. So I'll have to see what happens this summe when its real hot n humid