10mm carbine
Does anyone here have one? I've been looking at the olympic arms uppers and was wondering if anyone has had any
problems with them ,or other problems you've encountered with this type of setup.
I have both their 10mm and their .45 ACP uppers.

The new magazines are not that great. Certainly not good enough to make me wait sixteen damn months while they developed them. I never have been able to load them to full capacity, and possibly as a result of leaving them loaded over the course of a few days to try and weaken the spring some, they swell whenever you put more than ten rounds into them and won't fit into the magazine well. I believe they are both not quite double-stack, which is a design that has, to my knowledge, never worked right.
Aside from removing the fore end, there's no place on my uppers where the chambering is stamped. Thankfully, one of mine has a fixed carry handle and the other a flat top, so I can easily tell them apart.
Shooting wise, the long magazine prevents shooting from a proper bench rest, so while my inability to get either of them to group better than 8 MOA could be due in part to the rest issue, I still think I should be getting better results than that with a quality system.
The ejector system is cheesy and really highlights that the AR-15 was not meant to shoot this sort of cartridge.
Also, DO NOT USE A TIMNEY TRIGGER WITH THESE. Probably not with any blow-back AR-15. If you want a better trigger than the "mil-spec" trigger, use Rock River's two-stage NM trigger.
This has been on my wish list for a while now.
Feather Industries 10mmRAV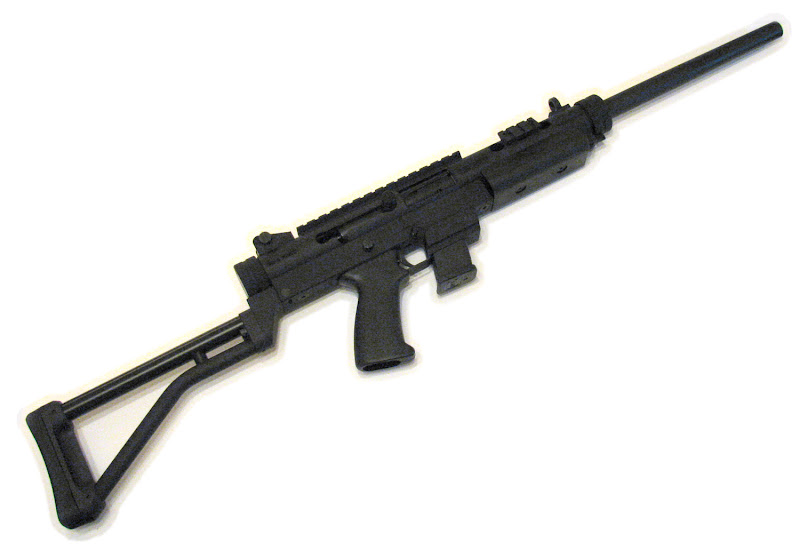 Now thats more like it! I might just have to get one
anyone have one? looks pretty nifty...
Originally Posted By usnpjs:
anyone have one? looks pretty nifty...
Exactly what I was thinking
I've been looking for a new hd carbine. 10mm would be sweet too. I allways wonder why keltec didn't make a 10mm to.
I always wanted a 10mm or .45 cal. At the time, and after much research, I got the Oly arms .40 cal deal that has a dedicated glock lower. I already had a glock 22 so this seemed like a good idea. I had it SBRed and can put on by Lee Minor in FL (look up LRM169).

It is a helluva fun gun and just as quiet as an Mp5 SD in a side by side comparison. With the funky mag release, though, and the occasional jam, I would not bet my life on it. But then again, that is what the glock 22 is for I guess.

A big consideration for me was ability to get mags and the one mag 2 gun concept.

Good luck!
BarrelXchange makes 10mm conversions for the Uzi.
Originally Posted By Dawg180:
BarrelXchange makes 10mm conversions for the Uzi.
What do they use for magazines?
Originally Posted By crazytuco:
Originally Posted By Dawg180:
BarrelXchange makes 10mm conversions for the Uzi.
What do they use for magazines?
45 ACP uzi mags, they may also work with Grease Gun lowers. www.barrelxchange.com, just shoot troy and email and he will know.
.45 UZI mags are running $70-$100 when you can find them.
There are a few 10mm MP5 weapons out there. Of course those fetch a pretty penny.

Also Ron Williams makes 10mm AR15 DI uppers that uses modified grease gun mags in a standard lower.

Bazooka brothers makes a lower that takes standard grease gun mags but its a dedicated lower.

CNC Gunsmithing makes a dedicated grease gun lower too. I would assume it would fire 10mm.
I have a Bazooka Bros lower and Ron Williams 10mm DI upper that's supposed to be finished and shipped to me by the end of next week. Once I get it I can post pics and give a review.
(just to add, in case RW looks in to the thread, Bazooka Bros handled getting the upper, which is already done, and they are working on the lowers now.)
I finally got that Baz-45 based 10mm carbine I ordered. I won't be able to get out to a range for another week or so though.....