Pic Request: SBR with UDE Furniture
While I wait on the paperwork, I'll be buying the other parts I need. I need to make a color choice on furniture.

Does the LaRue UDE look great on SBRs, or is it stupid to put a boutique color on an NFA rifle?

Black is always good, but I have plenty of other all-black rifles. There's no difference in price, so why not?

I have a FDE DMR-style 20" rifle, so I could also build the SBR as a "companion."

Or I could just buy black parts and Duracoat the whole thing in some cool pattern. I've DC'd guns before, and had great results. Never used their patterns, but I don't think it'd pose much of a challenge. I have all the equipment needed.

Or I could just Duracoat some of the parts (rail covers, furniture, accessories) and leave the receivers and other main parts black.


Parts I already have:
A3/flat-top upper
LaRue 9" rail (and the low-pro gasblock to go under it)
Troy Folders (black)

Will be a 10.5" barrel in 5.56/.223. I also want a Magpul CTR stock. I have them on other rifles and really like them. I'll be re-using the coyote/FDE slings I already have (all fitted with swivel QDs, both 1- and 2-point).

Just looking for ideas. Thanks in advance.
I poached a few from the 10.5" thread. Hope nobody minds.
Stephen7942 put up a perfect example of UDE:
I like that a lot.
But then Sweatpants has a sweet DC job on his:
That looks like it came out really well.
Comparing just those two, now I think I'd rather go with the DC finish. I'll stew on it a bit more...
You picked two really good-looking examples. I've thought about playing with color schemes and finishes, but I honestly just like a black rifle. I don't have a need for camouflage and my rifles are what I would considers my "toys".
Since you know you can Duracoat and refinish as you please, why don't you order the UDE gear since you have the itch and if you decide against it, then just refinish?
I like the UDE color, however, LaRue only has MagPul MOE grips in the kit. I need the regular MIAD grip
because I need the large back-strap.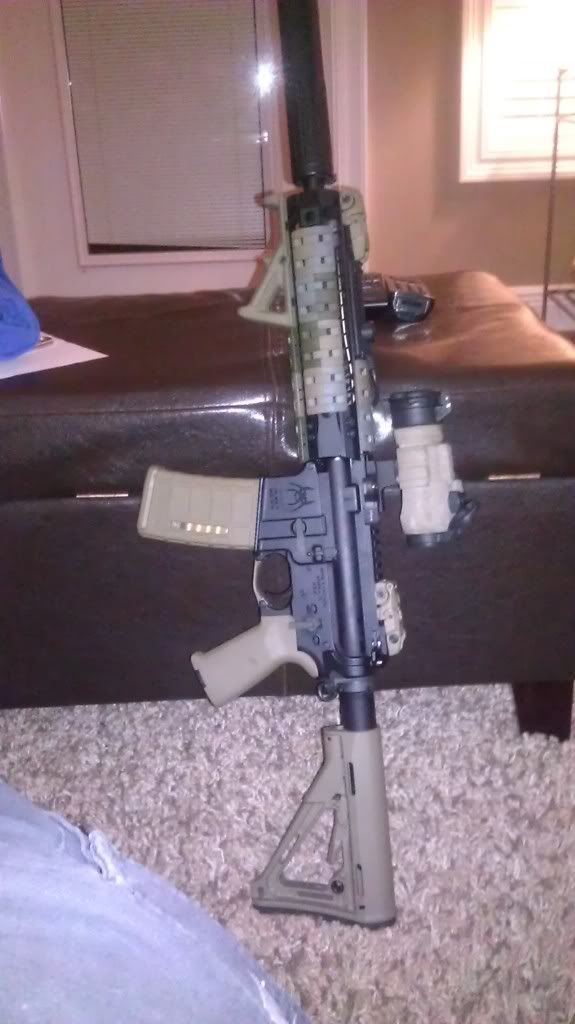 This is FDE.
That multicam job is sweet.
I plan on having a MOE forend, MIAD, STR, and a couple mags hydro dipped in multicam, ATACS FG, or maybe even woodlands for my colt 6933, haven't decided yet.