in the past few years I've impulse bought these parts off of the EE here, mostly because they were a good deal or i guess the money i had at the time was burning a hole in my pocket. now all i use this for is just to look cool or hang the M203 off of, I haven't even shot the rifle in months and don"t have the NVGs anymore.
what i have......
Colt M4 SOCOM 14.5in barreled upper with pinned Vortex flash hider. accepts HALO suppressors
Knight Armament M$ rail system
Trijcon M4RCO like new
PEQ-15
SureFire 3 cell weapon light
SureFire dual pressure switch, works both PEQ and light
Magpul stock (can put on regular M4 if you like that look)
Olympic SGW Pre-Ban lower. i will not sell the pre-ban lower if you are out of CT, the parts kit would be $4,000 even
email me or if you are in CT Text... 203 592-3872 for more info or offers
all these parts are real and not airsoft knock offs for looks, i've fired only quality brass threw this (mostly green tip) and has been cleaned a normal amount. i will say there are about 600 or 700 rounds threw this.
the barrel has some marks on it from where my 203 has been mounted
bought this new from the EE here just over a year ago new in box, i still have the extra stuff it comes with. this one still has the bible verse on it
other side with tape switch and the bottom rail section it will come with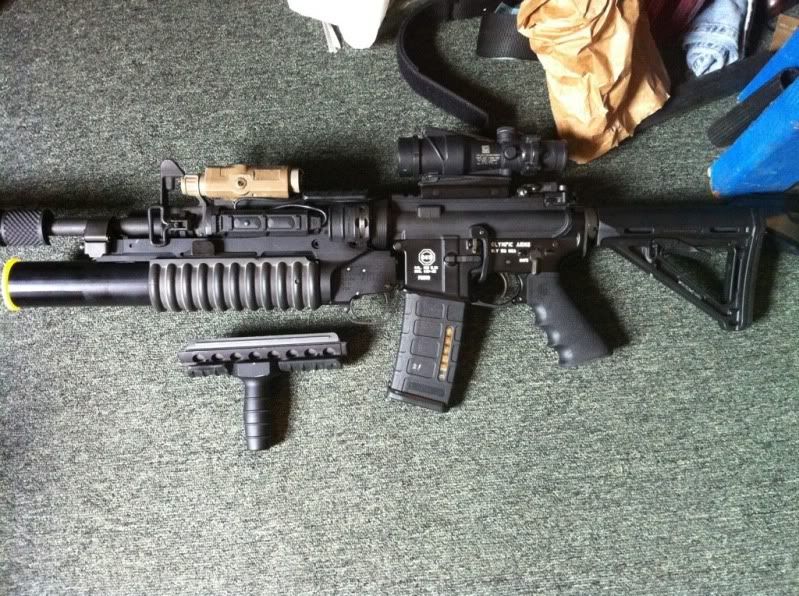 i prefer to trade this
for a bike with good papers. looking for..... Yamaha R6 2003-2005, R1 2004+ or a Harley based bobber or chopper. prefer older than 1980, pan head, shovel, sportsters are good too with the 1100s or iron heads. let me know what you have because with custom bikes it really comes down to what the buyer likes.
the LMT M-203 and GemTech HALO are NOT for sale but if you're in CT and serious let me know, i'd let it go as pictured for $7,000 with the lower or $6,500 without. 203 is on a Form 1 the can a Form 4.
Still have this....... I may part out the rifle accessories if there is enough interest.
If you have Interest and want to a REASONABLE offer go for it. Low ball offers will not get a response as these are not cheap knock offs.