Sad day in the racing world
Carroll Shelby has passed away due to old age...

http://www.teamshelby.com/forums/index.php/topic/74844-carroll-shelby-passes/

Jon
RIP, Carroll......
Sad indeed. Here is a picture I took of the man himself at The Barrett-Jackson. Met him, shook his hand, and he signed a vintage (60's) poster for me that I have framed in my office. He will be missed.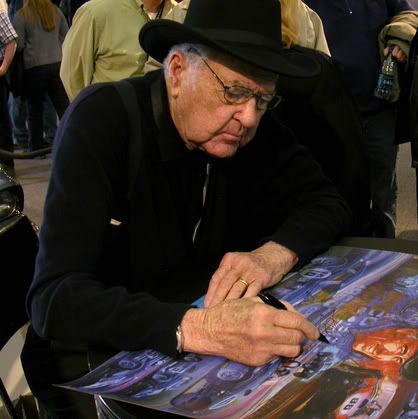 Guys like him and Smoky Yunick really made motorsports what it is today .
So sad. RIP Mr Shelby.
All the heros of my youth are passing on.
Senna dying was a sad day.....this is a yea it happens to everyone day.
I had the opportunity to spend an entire day with him, basically as his valet.
He was at my place to see his 2013 GT500 go 200MPH.

It was a good day and I had plenty of one-on-one time with him.

To say he was a complete gentleman does not go far enough.
He was truly old school.
It was a day I'll never forget.

RIP Mr. Shelby.