This is a 1 and/or 2 Gun Casually Competitive Match

Googleable address: Oley Valley Fish and Game 112 Old State Road, Reading PA

Limited slots available and pre-registration required (see bottom of this page)

Targets are a mixture of reactive, bullseye, and standard or scaled USPSA or IDPA style silhouettes.


Approximate combined 180 rounds. (60 pistol, 120 Rifle) BRING EXTRA

If shooting only one type of gun, one may shoot (and reshoot) the applicable stages. If one lacks a holster and/or sling to be able to transition between firearms, you may shoot a single firearm per stage for multigun stages.

Carbine/Rifle Maximum Distance to Target 100 Yards
Pistol Maximum Distance to Target 50 Yards

Course of Fire includes Shooting While Moving, Standing, Kneeling, Prone, and
Prone Variations. Expect Weak and Strong side Shooting. If uncomfortable with any position, each participant should adapt to what is safe and comfortable for them.

There will be two separate shooting squads. Expect approximately 3 1/2 hours to complete course. Mandatory safety meetings @ either 9:00AM or NOON

Shooters new to competitive events are welcome. Each participant must know how to safely operate their firearm(s) before attending.

General Info:
The exact CoF will differ slightly depending on your equipment. CoF need not be memorized in advance.
$10 for Oley club members $15 for non-members (cash -NO Credit Cards) at event.
This is a friendly, casual competition, but we are not casual about safety.
There will not be the opportunity to sight in before the event.
Shooters move through the Course of Fire one at a time.
We shoot rain or shine.
This is a participant driven event: When not shooting, participants will be aiding in the timing, scoring, and taping of targets.
Required Equipment:
Eye and ear protection
Rifle/Carbine
Chamber Flag
Rifle carry slings required if transitioning to pistol in such stages.
Semi-automatic or bolt action allowed (bolt action not recommended)
Centerfire or rimfire allowed.
Magazine or clip fed (such as Garand, SKS) actions allowed.
Tube fed actions are NOT allowed.
Minimum of 3 magazines for Rifle required.
Pistol
Any pistol or revolver in centerfire or rimfire. Revolvers not recommended.
(with the exclusion of black powder)
OWB or thigh holster only, no others permitted
.
Minimum of 3 magazines for Pistol
Chest rigs, vests, or mag holders are NOT required, but can be worn.
SBRs and Suppressors are allowed.
Muzzle Brakes allowed, but no cookies for you.
Extra staplers are appreciated too- Especially so if it rains before or during the event.
Black Tie optional.
Detailed Course of Fire Info:
Will be posted at a later date.
Important Safety Procedural Information:
No handling of any rifle or pistol when personnel are downrange.
If carrying pistol in holster, firearm must be cleared before or upon arrival.
You may clear at the range after notifying the RSO.
- A clear pistol is empty chamber, mag removed, hammer down.
Pistols shall only be loaded and/or removed from holster when on the firing line.
If transporting a cased pistol, pistol shall remain cased until after safety briefing.

Rifles must remain cased and in vehicles until after safety meeting and the squad is called to uncase and store rifles on rack in the staging area.
Chamber flags required for all rifles not in use on the firing line, if you do not have one, one will be provided when uncasing .
No handling of any rifle when personnel are downrange.
No handling of rifles after placing on racks- Individual shooters will be called when it is their turn to shoot.
Rifles will be recased when squad is finished.
No tracers





Link to online form to register:



https://docs.google.com/spreadsheet/viewform?authkey=CMf22ssE&hl=en_US&pli=1&formkey=dHdSS1Y0dTdkTzROcEdYaVNpZWV1WlE6MQ#gid=0

For any questions or to register by email contact Shawn at [span style='color: blue;']senditheretome@netzero.com
Oley Valley Fish and GAme membership is $20 per year if a NRA member
Oley Valley Fish and Game Websites including membership info:
https://ovfg.webs.com
www.federatedsportsmensclubsofberksco.com/oleyvalleyfishandgame.html
Tentative CoF: subject to change according to range and weather conditions and quantity and quality of chocolate chip cookies or hot chocolate.
Bring appropriate footwear; Range WILL have some areas with mud underfoot. Also consider that it is also December in PA, not July on Waikiki. Beach.
Pistol mags: can preload 4 with 14 rounds each.
Rifle mags: can preload 3 with 11 rounds each.
One Barney Mag.
There is time to load mags at event and we can work around mag shortages if necessary.
Stage 1. Pistol or Carbine:
Point Shoot / Failure to Stop scored exercise (3 mags x 14 rounds)
2 shots point shooting to body of target then 1 aimed shot to head.
1 shot point shooting to body of two targets then 1 aimed shot at each target.
Will repeat this numerous times (all for score)
Stage 2. Pistol or Carbine:
50 yard Practical Stage (3 mags of 15 rounds each)
Similar to an USPSA stage: As in there's a whole bunch of Targets, –– now shoot them.
Stage 3: Carbine (100 yard) or Pistol (50 yard)
Balloon then bulls eye for each of 3 mags of 11.
Time limit ?: Must first pop a small balloon from standing position with no support, then remainder of mag at bulls eye for score. Change mags and repeat kneeling, then change mags and repeat in prone (balloon must be popped from standing for each mag)
For each wasted bullet from a miss of the balloon = minimum 10 points you'll never get back.
Stage 4: Carbine Only.
100 yard Kneeling and Prone variations exercise: (4 mags x 10 rounds each)
Kneeling and Prone variations exercise: Bulls eye for score.
Kneeling, Prone, Urban Prone, and SBU prone from various positions.
Stage 5: Carbine Only
. Practical 100 yard (2 mags x30 round max)
Similar to an USPSA stage and there will be some targets that must be engaged from behind cover, with partially blocked line of sight that will have to be shot from urban or SBU prone.
I hope everyone who bravely ventured out in the 1/2 inch of deep snow had a good time, and thanks again to all for a safe event.
Results at link:
https://docs.google.com/spreadsheet/ccc?key=0AvfpV0hCqOSjdDJmZmpMSEdMSklhV1lrMEI0eVFzZHc
Some of the hardware
Rifle Stage shot in one continuous string: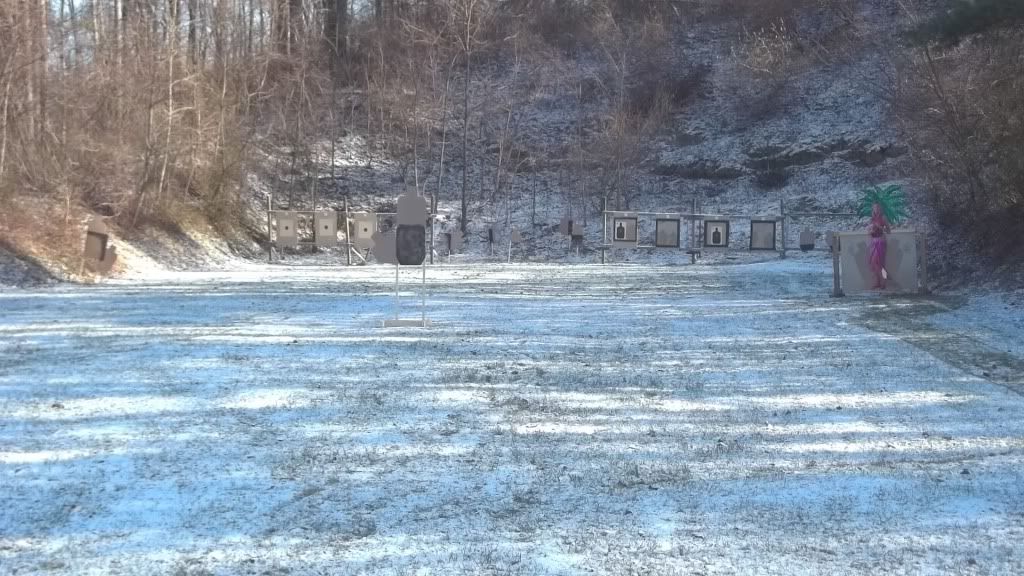 some more pics taken by the participants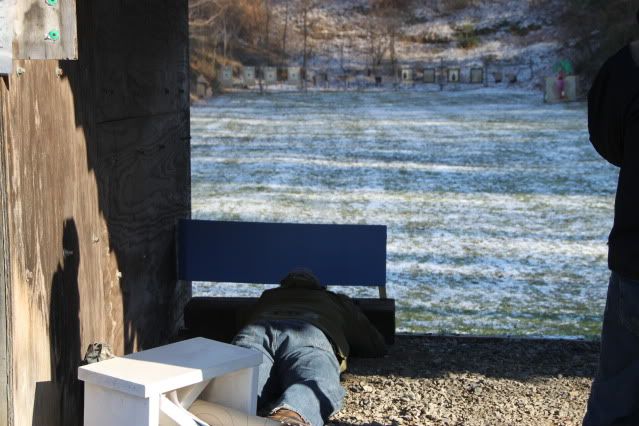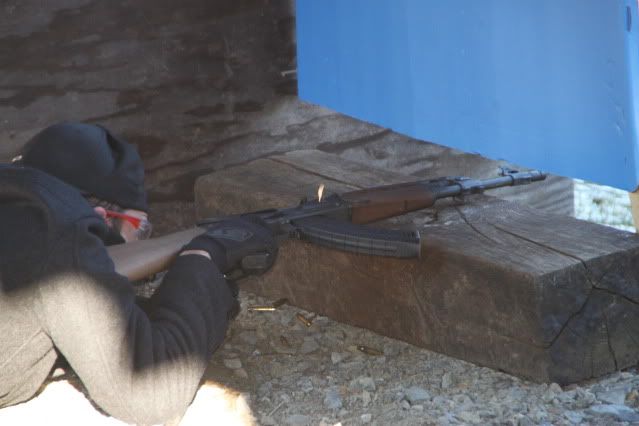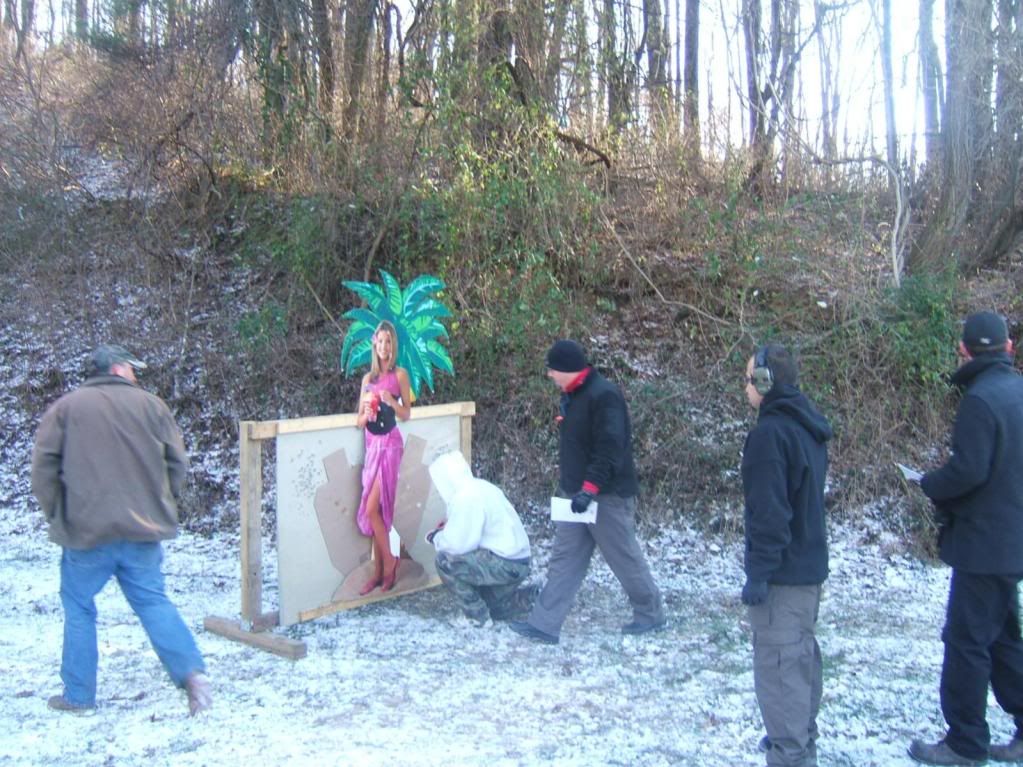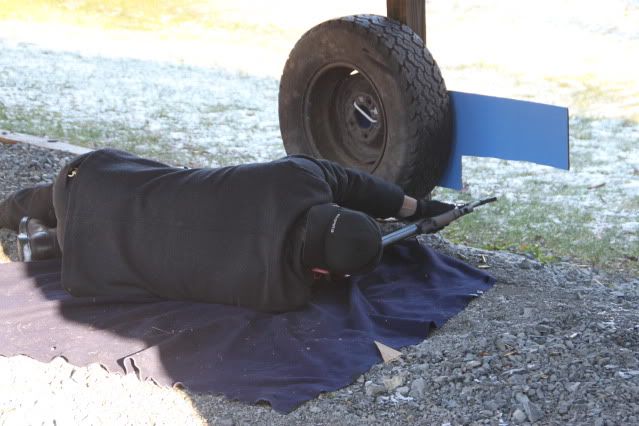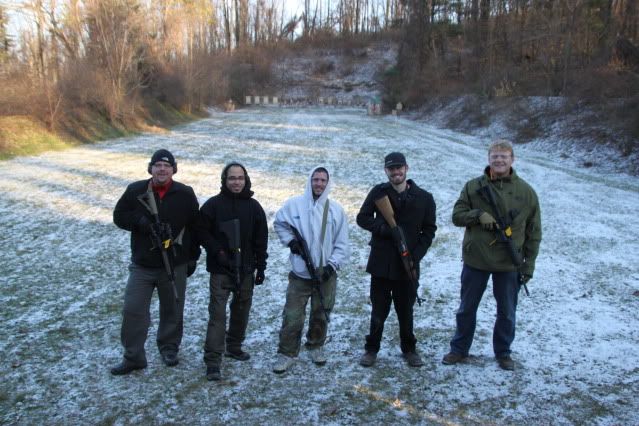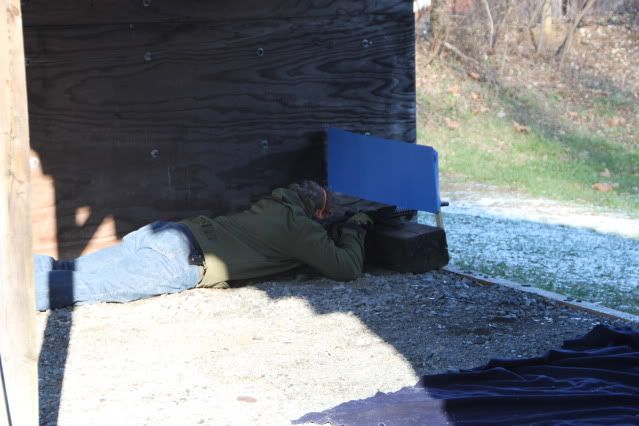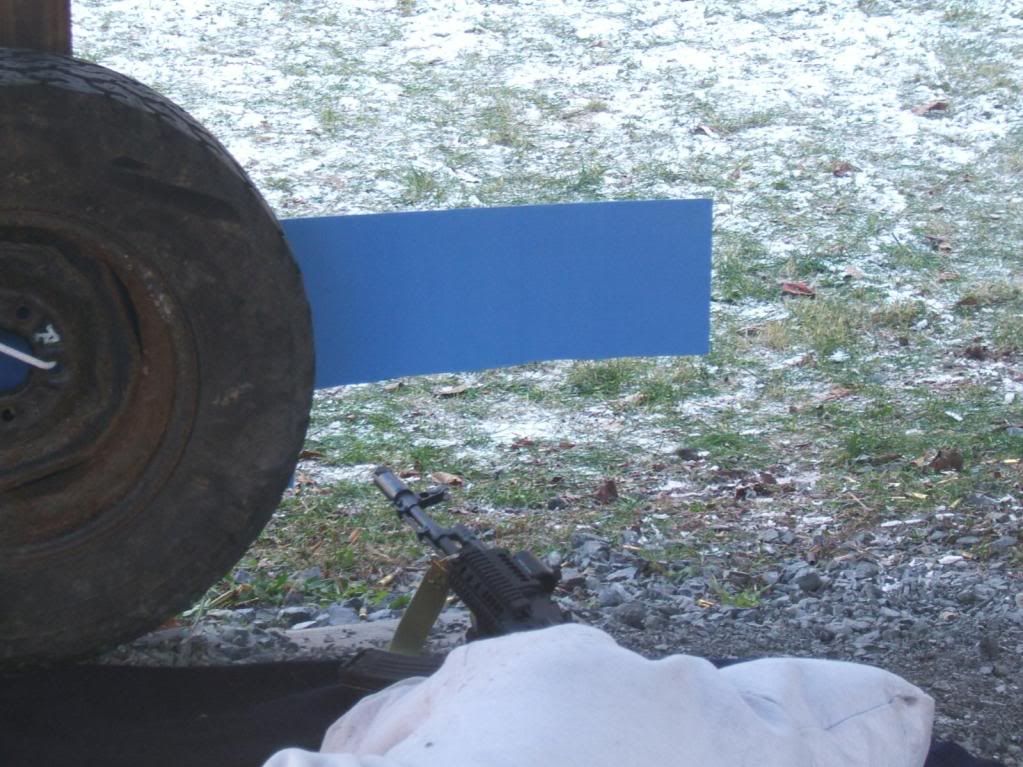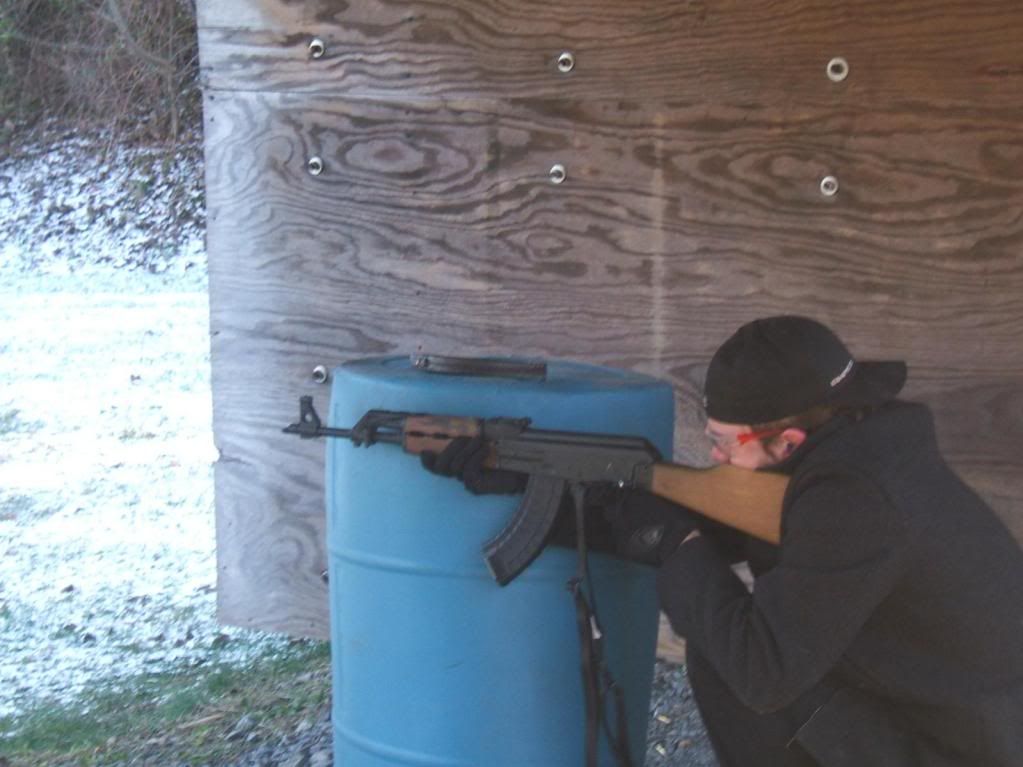 I gotta get up there and shoot with you guys. Looks like you have some good stuff going on, and a very fun time.

It'd be nice to just be a competitor and have nothing to do!

––Fargo007