Bone Creek Gun Club
is hosting a rifle & handgun USPSA style night shoot Saturday Jan 14th. Shooters will contest three handgun stages then shoot modified versions of those stages with rifles.
ETA - We now have 30 shooters pre-registered! Please pre-register if you want to shoot so we can avoid long lines and delays.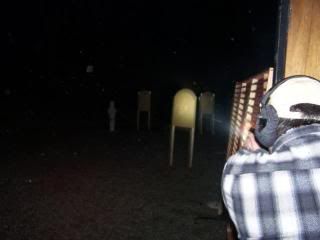 TIMELINE:
2:00 PM – stage set up
4:00 PM – registration opens
5:00 PM – registration closes
5:15 PM – safety briefing & prize drawing
5:30 PM – match begins
10:00 PM – match ends
10:30 PM – Match tear down complete & awards ceremony.
MATCH INTENT: Test equipment realistically used for home defense, self defense or law enforcement in challenging low light conditions.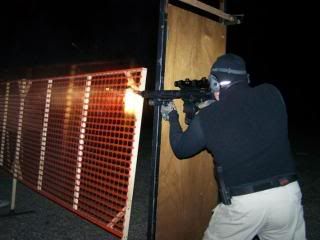 WHO CAN SHOOT: We try very hard to keep our matches beginner friendly BUT running around in the dark with a loaded gun can be dangerous. Anyone contemplating this match should either be an experienced competition shooter, Law enforcement or Military with a background of firearms training. You will be required to shoot around walls, through windows, under & over barriers plus open doors with a loaded gun.
PRIZES: John's Sports Center (our LGS) is providing gift certificates and we are working with other area gun stores for additional prizes to be awarded by drawing. Trophies will be awarded in each division (Handgun handheld, Handgun weapon mounted, Rifle and Overall).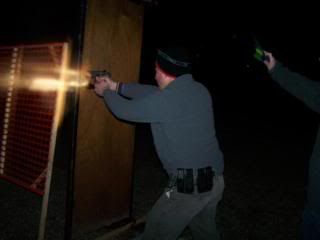 STAGE BASICS: Shooters will engage targets from routine and unusual positions around barricades and through shooting ports. Distances vary from three to thirty yards.
ROUND COUNT: Stages will require 30+ rounds each with a total of about 100 rounds for each firearm. There will be no required reloads.
EQUIPMENT: Handguns will have two divisions (weapon mounted lights and handheld). All rifles/carbines will compete in a single category. All firearms must be centerfire. Optics, white light, night vision and lasers are allowed. Legally owned or duty full auto and suppressors may be used. Handgun magazines must conform to USPSA Limited requirements (140mm long or approx 20 rounds of 9mm).
STARTING ']Email entry to roger at tailwindcyclists dot com[/span]
SAMPLE ENTRY
Name - Roger Lomshek
USPSA – A-59161
Phone – 620-249-xxxx
Email – roger@xxxxxxxxxx.com
Handgun – Weapon mounted, minor, 9mm
Rifle – Minor, .223
Squad with – Rob Leatham, Doug Koenig, Todd Jarret
SQUADDING: Competitors will be divided into three squads that will rotate through the stages. If you want to shoot with your buddies in a squad then list their names in your registration email as preferred squad-mates. Every attempt will be made to squad you together.
WEATHER: Cold or a little snow on the ground will not affect the match. Rain, ice or unsafe driving conditions will postpone the match to Jan 21st. The range is on a dirt road making access in heavy snow difficult.[span style='font-weight: bold;'] If in doubt call Roger Lomshek six two zero-249-0037.[/span]
RANGE CONDITIONS: If you need it bring it. Temps have been in the teens at prior matches. Stars and moon will be the only light. Besides a tactical light bring a simple headlight for administrative work. If you want anything to drink or eat bring it.
Volunteers are needed to help set up the stages early. Shooters must help reset stages, paste targets and tear down the stages once the match is complete.
Hope to see you there,
Roger Lomshek
Match director
Bump for the one week warning. If anyone is planning to come please email me your entry info so we can eliminate a line at registration.